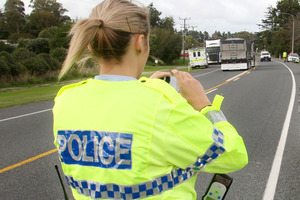 The country may have recorded its lowest annual road toll in more than six decades, but that is not a signal to ease up on driver education programmes.
As Kiwi drivers celebrate the arrival of the 2014 year, the road toll stood at 254 as of last night, the lowest since 1950.
And Wanganui motorists have played their part, with the Wanganui-Manawatu region one of four with the biggest reductions. The others were Gisborne/Hawke's Bay, Waikato and Southland.
However, the Automobile Association said the drop in road deaths was not down to any one reason but rather a combination of greater driver awareness and safer driving techniques, better roading and persistent education of new drivers.
Glenda Leitao, the Horizons Regional Council road safety co-ordinator, said the educational programmes around the region were having an impact.
But Ms Leitao said it was vital these programmes continued.
"Our job is all about raising awareness of road users and particularly the younger drivers," she said. "We go to schools and to the public to make everyone more aware of their responsibilities. And what we're finding is that young people especially are very aware of what can happen on the roads."
Ms Leitao said the message about having a sober driver was getting through.
"Sure, there may be the odd lapse but they are learning and it is making a difference. But we have to keep at it because there's always another age group coming through the system."
Road safety coordinators had also found that the educational programmes they delivered were being spread by the young people themselves.
"They go back to their homes and talk to their parents and brothers and sisters so the messages they pass on are having an impact," she said.
The 254 road deaths in the past 12 months was a 17 per cent reduction from 2012. In the past 60 years, the only other year with a total below 300 was 2011.
Mike Noon, AA general manager of motoring affairs, said: "This is the lowest number of people killed in road crashes since 232 deaths in 1950.
"When you look at the number of people using the roading network in New Zealand, our roads are the safest they have ever been," Mr Noon said.
"That doesn't change the fact that each and every one of the deaths and serious injuries suffered on our roads are tragic events that cause enormous hurt and loss in families and our communities."
There was no single answer for the significant drop.
"Vehicle safety is improving dramatically and that's a part of it. There has been some fantastic work done to improve the quality of high risk roads and roadsides and that's a part of it.
"People's attitudes to road safety and the way they drive have also changed for the better and that's a part of it. All of these together are helping to bring down our road toll," he said.
It was also heartening to see a downward trend in other traffic accident statistics.
Since 2009 there had been a decline in the number of injury crashes, the number of drink drivers and the number of young drivers involved in fatal and serious crashes, he said.
"But improving road safety is something we can never be complacent about. We can and must do better again in 2014."
Some of the best areas of improvement in this year's road toll are:
Biggest reduction has been in passenger deaths - down 41 per cent
Motorcyclist deaths have fallen 18 per cent from 2012
A 38 per cent reduction in deaths among 25-39 year olds