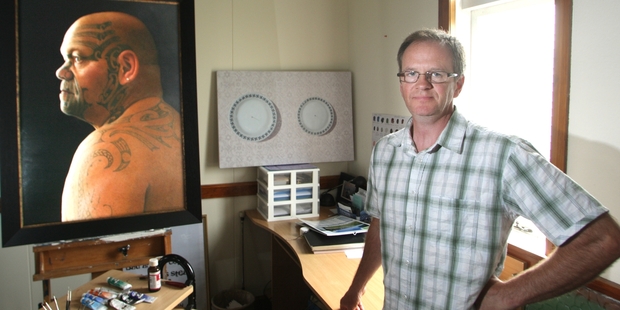 When Andre Bronnimann entered his surrealist painting Couldn't Shouldn't in several art competitions, he was hoping to get as many rejections as possible.
However, after two rejections, the painting won first prize at an art exhibition in Hawera.
The painting at first glance is unremarkable - it depicts two plates hanging on a wall.
A second glance reveals the plates have a Nazi swastika motif while the wallpaper pattern contains the Jewish Star of David emblem.
"I was a little bit disappointed when I won. I knew a lot of art galleries wouldn't go near the painting because it would be too controversial for them," Wanganui-based Mr Bronnimann said.
"I've always had a fascination with war and what humans do to each other - that's what the painting is about."
It's been a good year for Mr Bronnimann. As well as his success with Couldn't Shouldn't, his portrait Tom was accepted into the Whanganui Arts Review and won awards at the Taranaki Art Awards and the Waimarino Art Awards.
The portraits are part of a series of oil paintings Mr Bronnimann has done on people with ta moko.
"Well, it started off as a ta moko series but not all the people I've painted have ta moko."
There have been seven portraits so far and next in line is one of three Maori sisters from Taranaki.
Mr Bronnimann said he begins by doing a photo shoot of the subject, and paints from the photo.
"Each one takes more than 80 hours to do, so it would be quite hard for a person to have the time to sit for that long," he said.
His subjects are chosen completely at random - he stopped one woman in the street and asked her if he could paint her.
"I ask them if I can paint them and show them copies of my previous work. Some have said no, but not many."
He gives every person he paints a large framed print of their portrait.
Originally from Switzerland, Mr Bronnimann painted exclusively in acrylics for 16 years and switched to oils three years ago.
"I prefer oils now. With acrylics, the hue changes when it dries out, but that doesn't happen with oils - they keep their colour."
Mr Bronnimann isn't a full-time artist - his day job is cleaning carpets - but he believes that is an advantage. "My paintings happen over a long period of time and I just have to fit them in between work and family life.
"But it's good having gaps in my painting, because then I can go back and look at things with a fresh eye," he said.