In this summer series of Wanganui views, MERANIA KARAURIA visits homeowners and discovers why their view is so spectacular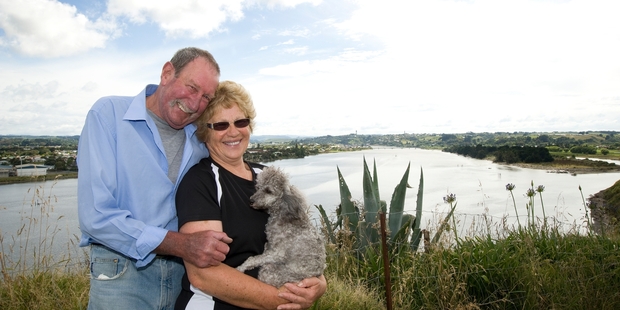 Maureen and Malcolm Parkin love the birds'-eye view from their home where they can see Mt Taranaki in the west, Mt Ruapehu in the north and Kapiti Island in the south.
"The view is fabulous and the Whanganui River's shape and mood constantly changes," said Mrs Parkin at their Landguard Bluff property.
"I accept the river for what it is. It is my fix for the day - the river, the driftwood, the island (Corliss)."
And when the weather is wild, its fury whips around their house and property and is just as exciting.
The Parkins have lived here for 42 years.
They bought the property in 1970 from the mother of former mayor, the late Chas Poynter.
She built the house in 1963. The Parkins were there before the speedway moved in.
But they're thinking it may be time to sell up and buy a camper van and see the other views on offer around New Zealand. Mr Parkin, who adds that he's "tired" - it rhymes with retired - was a helicopter pilot, and the "office" was just over the hill. Now also retired, Mrs Parkin once used the 7am flight to Auckland as her timepiece.
She watches the 10am plane as it lifts skyward and, like the sound of the humming industry on the other side of the river, she says it's "men at work and not invasive". There's an easy banter between the couple, whose three dogs love the wide open space and live easily with the ducks, Grace the hen, Geoffrey the rooster and the goats, Polly and Nigel.