A new airline could soon be flying between Wanganui and the capital - as the national carrier takes off for the last time next month.
When Air New Zealand announced in September that it would end its Wanganui-Wellington service, it seemed like the air link would be gone for good, but Picton-based Sounds Air is looking at stepping into the breach.
The airline's chief executive Andrew Crawford, along with several pilots and its head of engineering, flew into Wanganui in one of the company's distinctive orange and white Cessna Caravan aircraft yesterday to make the announcement.
About 35 invited guests, including several councillors, welcomed the southern contingent at the Wanganui Airport terminal.
Mr Crawford said that although the company made dozens of flights each week over the Cook Strait there was room for more.
"We have spare capacity after we bought a fourth Caravan recently.
"We fly between Wellington and Blenheim 30 times a week, to Nelson 25 times a week, and to Picton 30 times a week, but we have room for more.
"Wanganui seems to be a very real opportunity for us as Air New Zealand has left."
He said the company was "very close" to making a decision about the Wanganui-Wellington service which could begin early next year. Sounds Air would fly the same schedule as Air New Zealand.
Willie Sage, the Taihape-born chief pilot of the airline, said the Caravan aircraft would "speak for itself" in terms of passenger comfort.
"It's quiet, roomy, it's very nice to ride in - our passengers love it.
"On the pilot's side, it has state-of-the-art avionics, more so than you might find in standard airliners."
Mr Sage said that although some people had reservations about flying in a single-engined plane the Caravan was as reliable as a twin-piston-engined plane. Mr Crawford said the chief air accident investigator was a regular passenger on the company's aircraft.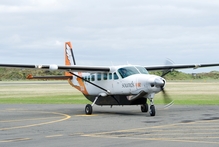 Wanganui mayor Annette Main said the possibility of a replacement air service between Wanganui and Wellington was welcome news for the district.
It was great to see the interest shown in providing a service between the two cities.
"We had some frequent flyers at the airport to talk with Sounds Air and there's every indication that there will be excellent support from passengers for a new service," Ms Main said.
"We look forward to Sounds Air's confirmation of the introduction of a service next year."
Air New Zealand's final Wellington service ends on December 24. The Auckland services will not be affected.