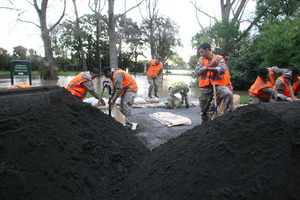 A state of emergency was declared for the Wanganui district around 5pm yesterday with the Whanganui River expected to break through stopbanks in part of the city two hours later.
Flooding had already affected some properties in Putiki and Wanganui East by mid-afternoon and around the district surface flooding and slips closed several State highways and rural roads as well.
But the worst of the trouble was expected to hit the city as the flood-swollen Whanganui River peaked around 7pm.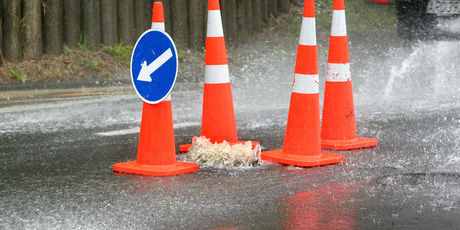 Wanganui District Council and Horizons Regional Council engineers said the river was predicted to peak at 16m above normal flows at Pipiriki, and the surge would push floodwater downstream to reach the city.
Soon after 3pm yesterday Red Cross and rural fire teams were visiting affected properties with evacuation information.
Residents of Anzac Pde properties between Mt View Rd and Jones St were being told to evacuate.
Some properties in Putiki near the motorway bridge were also being evacuated.
On the other side of the river businesses between the motorway bridge and Moutoa Gardens were also being contacted.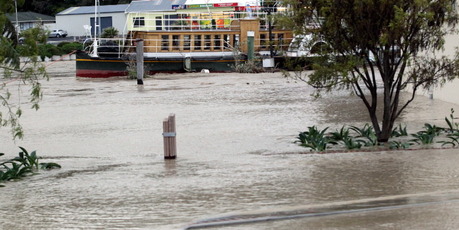 A welfare centre was being set up at St Paul's Hall in the central city to assist those being evacuated.
Police and army personnel were patrolling the evacuated areas overnight. Persistent heavy rain on the central plateau raised river levels rapidly throughout Monday night and again yesterday.
At a Civil Defence briefing yesterday Wanganui District Council chief executive officer Kevin Ross said the river levels were expected to reach a 30-year flood level and that meant they would spill over stopbanks in the city.
"It's the right decision to look at evacuating," Mr Ross said.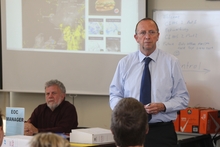 Local radio stations started broadcasting messages immediately after the emergency debrief urging people in the affected areas to get home and prepare to move out.
Power and gas authorities were on standby late afternoon to cut services if needed.
Once the state of emergency was declared Mr Ross said authorities aimed at having everyone out of the affected areas by about 6pm yesterday.
Raw sewage has spilled into the Matarawa Stream in Wanganui East.
The stream flows through part of Kowhai Park and council staff say the contamination from that spill will probably last for a few days and are warning the public to stay well clear of the area. At 3pm yesterday flood water in that stream was rising at the rate of half a metre an hour.