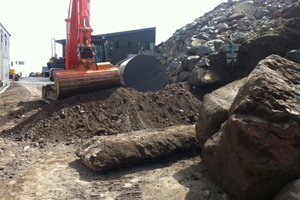 More than a week after thousands of litres of diesel spilled into the Makotuku Stream work is well under way to get Raetihi back to normal.
Horizons Regional Council group manager strategy and regulation Dr Nic Peet said work to prevent further contamination of the stream was largely completed yesterday, with close to 50cu m of contaminated soil removed from Turoa over the weekend.
Dr Peet said staff from Horizons and Ruapehu Alpine Lifts, owner/operators of Turoa, had been working to identify contaminated soil by sight and smell, with formal sampling to take place today.
"Digging the soil out and moving it to a containment facility helps reduce the likelihood of further contamination and allows us to focus on mopping up any diesel already in the system.
"Controlled flushing is under way to try and mobilise any residue present in the Makotuku Stream. We currently have two absorbent booms in place to capture this residue and are looking at installing a third," Dr Peet said.
Diesel in the stream was distributed in thin layers and initial sampling had found undetectable levels of hydrocarbons. Dr Peet said rainfall of more than 80mm was needed to remove any residual diesel. "We will be carrying out further sampling following this rain and hope to be able to advise farmers around the availability of stock water later in the week," he said.
A 40,000-litre capacity tank at Turoa ski field began leaking diesel on September 27 and its contents went into the Makotuku Stream, which feeds Raetihi's water supply.
Early reports said about 1500 litres of diesel had entered the stream but at a public meeting on Friday night RAL CEO Dave Mazey said 19,000 litres was "unaccounted for".
Fairfax Media reported that Mr Mazey apologised to those at the meeting for the spill and pledged to support the Ruapehu District Council in the aftermath. "I accept totally that any inconvenience I feel is nothing compared to what you are feeling."
Surveying carried out by the Department of Conservation on Saturday found no evidence of any major environmental effects and Horizons has initiated a formal investigation.
More than 250 15-litre water containers were distributed by Sunday and 14 1100-litre "pods" had been set up around the town. RAL has also been going door-to-door delivering 15-litre containers with stands to homes in the area.
Cafes and food outlets have been provided with 1000-litre tanks plumbed into their businesses, to be followed by other non-food businesses after talks with RDC regarding their requirements.
The RDC said reticulated non-potable water for toilet and washing use would be available from October 16. There will be a meeting to update residents at the Raetihi Cosmopolitan Club, 32 Seddon St, today at 5pm.