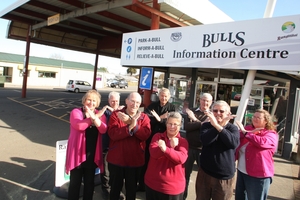 The controversial Bulls Service Centre proposal again has been set aside by the Rangitikei District Council.
The proposal to "co-locate" the town's library, information centre and bus stop to a new development has met objections over a perceived lack of consultation with the Bulls community.
Community members spoke at the council's public forum yesterday. They included Carol Lewis, who presented six petitions on the proposal to Mayor Chalky Leary. She told the council the first time the community heard about the proposal was on August 7 at a "drop-in" meeting and an initial petition soon after had gathered 385 signatures opposed to the move.
Ms Lewis organised her own petitions, which gathered more than 400 signatures in opposition.
"The community is happy about the co-location, they've embraced the new development at the Wallace Developments complex, but council failed to consult with the community regarding the location or relocation ... and, further, that council has failed to consult with the Bulls community regarding the location of the new public toilets," she said.
Mr Leary later said he believed the council had the Bulls toilet location up for consultation for 12 years without a "direct steer", which drew disbelieving remarks from members of the public.
Marton councillor Lynne Sheridan asked if there was any truth to rumours of leases already being signed for the current buildings, which was flatly denied by Mr Leary.
"Absolutely no, no, never. The real estate people have a job to do, they tell as good a story as they can and they've anticipated something they had no right to."
Sarah Harris, deputy mayor and a member of the Bulls ward, motioned a town centre plan should be put in place for the Bulls CBD and that until this was done the co-location proposal be set aside.
Ms Sheridan said she felt a community plan would be better as the people of Bulls would have a greater say. Dean McManaway, of Hunterville, said he wished to see more harmony among the different groups before a plan was drafted.
Mr Leary said he was in two minds about the plan concept. "I lean toward the town plan as we need to do something, but we need to be really, really, really careful as to the next council. We could throw as much money at this as we can dream of and still not get an answer everyone is happy with."
The council narrowly voted to have a draft town plan go before the council in December and for the service-centre proposal to lie on the table until the plan was completed.