With more and higher stopbanks ruled out, how do Wanganui people protect their homes from floods? There will be more and bigger floods as climate change progresses, authorities say. Laurel Stowell reports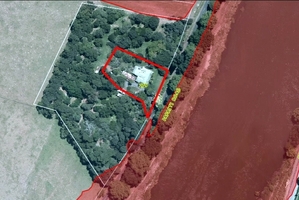 Climate change is happening and one of the options to prepare Wanganui for future flooding is to ban new building in the flood zone. About a month ago Horizons Regional Council gave Wanganui District Council an updated map of how high the water would come in a 200-year flood.
The council decided to share that information first with people in the flood zone.
About 60 people went to a meeting at Wanganui Girls' College hall on August 27, to hear from both councils. This reporter was one of them, because we got a letter from the council saying our riverbank house would be affected by a 200-year-flood.
Those at the meeting were asked to start thinking about possible rules to limit development within the city's flood zone, with the rules added to Wanganui's revised District Plan.
No rules were proposed for existing buildings, Wanganui District Council principal planner Jonathan Barrett said.
But it was prudent to reduce the risk to future buildings.
Rules in the revised district plan could stop people building in the flood zone or they could make sure any houses built were above flood level.
They could also make sure people could get to and from their houses safely during a flood.
"Most of the flood deaths in New Zealand are from people leaving houses that are safe or going to people that are safe," Horizons investigations and design manager Peter Blackwood said.
The state of play with Wanganui flood protection so far is a $3.2 million stopbank at Balgownie to protect the industrial area from 200-year floods and an agreement with Horizons to repair Anzac Parade stopbanks to 50-year flood standard.
That work is set to take place this summer, with all the money to pay for it loaded on to residents' rates bill in the same year.
More than 60 per cent of Wanganui people rejected the idea of further protection in a feedback exercise early last year, though Wanganui District Council said in its submission to Horizons' annual plan that it would like more flood protection.
Like Balgownie and Anzac Parade, Wanganui's central city is vulnerable to flooding. Water would stretch half way from Taupo Quay to Ridgway St in a 200-year flood. The two councils have agreed to make that area a special case. New building in it has to be able to withstand floods.
The i-SITE information centre, for example, has electrics high up on the wall and a concrete floor, allowing it to survive a flood.
Building ever-higher stopbanks to protect against flooding has gradually fallen out of favour worldwide since the 1980s, Mr Barrett said, especially after Hurricane Katrina overtopped the stopbanks, in New Orleans.
It's Horizons' job to assess the level of risk. Residents can then decide what they want done about it.
Horizons operates an early warning system that gives the city 12 hours' warning of a flood. It allows property owners to evacuate or prepare, and gives both councils time to swing into an emergency action plan.
Mr Barrett said Wanganui District Council had previously based its planning around 50- and 100-year floods. But the pace of climate change meant 200-year floods had to be considered.
What are now 200-year floods are expected to be at least twice as common within 50 years, Mr Blackwood said.
And all current measurements showed the climate was warming.
A Ministry for the Environment 2008 advisory predicts average warming of 2.1C by 2090. Every degree of temperature rise results in 8 per cent more rain, so that would be more than 16 per cent more rain in 2090.
But Mr Blackwood said climate change was happening faster than that average scenario. Slowing it required international co-operation, which was "zilch" at present.
The temperature rise for Manawatu/Wanganui could be as high as 5.3C by 2090, bringing more than 40 per cent more rain. Horizons decided to use the predicted average in its assessments.
"You have a range of people. Some say we should go for the high end, and some say climate change is not happening."
Talking about floods happening every 200 years made them seem remote, Mr Barrett said. "But it could be next week, and then it could be next month as well."
Horizons' past moves toward further stopbanks to protect the city - and raise rates - have angered some. Council officers fronting Tuesday's meeting faced hostile questions about why a 200-year flood benchmark was chosen, why Horizons needed to employ outside consultants, and why stopbanks were needed at all given the early warning system could prevent loss of life.
Mr Blackwood said he thought most Wanganui people were now pleased the Balgownie stopbank had been built.
"If that area floods Affco will shut and a lot of people will lose their jobs. The average person in Wanganui understands that's a very necessary protection of an area where a lot of people are employed."
A 200-year flood there would cost the city $95 million. The stopbank cost less than $4 million.
The Wanganui council invited Horizons to the Tuesday meeting to give an assessment of flood risk. It was not Horizons' intention to use the occasion to scare people into building more stopbanks.
"Why would we want to go and withstand all the grief of trying to promote more schemes there? We're human beings too," Mr Blackwood said.

Wanganui floods
* 2004... 10-year flood
* 1998... 20-year flood
* 1990... 30-year flood
* 1940... 70-year flood

Climate change
* Average temperature rise by 2090 - 2C.
* Extreme temperature rise by 2090 - 5C.
* 18cm-59 cm sea level rise between 1990 and 2100.
Source: Climate Change Effects and Impacts Assessment: a guidance manual for local government in New Zealand, Ministry for the Environment