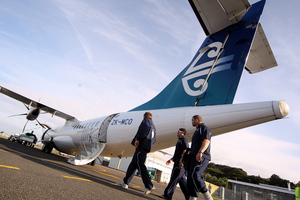 Former Wanganui man Hayden Montgomerie is hoping the city will fight to keep its air connection with Wellington.
The frequent flyer between the two cities is hoping Wanganui District Council will mount a campaign to keep the link going.
But Wanganui councillor Rob Vinsen says it's probably a lost cause because it's just not profitable, and Whanganui MP Chester Borrows says losing it is a consequence of living in the provinces.
Wanganui Mayor Annette Main said Air New Zealand had undertaken to meet with Wanganui business and tourism interests to talk about future services.
The operator, Air New Zealand (Air NZ), has said the Wellington flights will stop from December because they have been making a loss for some time. It would not say how big that loss is.
But Mr Borrows has been told the flights wouldn't break even if they were 100 per cent full. He said it was difficult to make a profit on flights in small planes, and Air NZ usually subsidised them with other more profitable flights.
He didn't know why the company was no longer willing to subsidise the Wellington-Wanganui flights.
The airline flies people from Wanganui to Wellington Monday to Friday at 7.05am, and returns them to Wanganui about 7.30pm.
On Monday, Wednesday and Thursday the plane flies Taupo-Wanganui-Wellington.
The company says a 29 per cent increase in landing charges at Wellington Airport is one of the increasing costs that stop it being viable.
However, landing charges at Wanganui Airport are not part of the problem, Cr Vinsen said. They are less than $70 a time, and have remained stable since 1988.
Wanganui Airport staff haven't been told the flights will stop, one of them said.
When they do, it will mean Air NZ will fly north only to Auckland from Wanganui Airport.
The staff member said 68 per cent of seats on Wellington flights were filled, and he had the impression the flights were breaking even. Cr Vinsen said 71 per cent of seats were filled a year ago. Mr Borrows gave a 75 per cent figure.
Both said Wanganui-Auckland flights were at least doing well.
But Mr Montgomerie, raised in Wanganui and now working in Wellington, is not satisfied with that. He said it took a lot of work to re-establish the air link to Wellington.
"Wanganui should fight a little bit harder to keep it. It will be a massive battle to get it back."
A 33-year-old civil servant, he uses it regularly to come home and see family. Most recently he flew to Wanganui on a Thursday night, spent some time in the city and on Mount Ruapehu. He was able to fly back to Wellington on Tuesday morning, in time to start work.
He said he didn't own a car, and flying saved him time. He probably won't visit Wanganui as often without the air connection.
There were a lot of young people who left Wanganui for opportunities elsewhere, and he wanted it kept for them. He asked whether Wanganui District Council made a point of using the service itself, and whether it would set up a working group to keep the flights going.
"There are lots of people in Wanganui who perhaps could have done more by their actions to keep this up."
Cr Vinsen said Wellington was not a "marketable sector" from Wanganui, even as a link to the South Island, because Palmerston North to Christchurch was cheaper, direct and served by a better schedule.
He had heard changes within the Air NZ fleet may have led to the removal of some flights. Asked about this, Air NZ said the changes were not a factor, and the flights were simply not economic.
Mike O'Malley, director of House of Travel in Wanganui, said the cut to service would not have a significant impact on travellers.
"It really was only a service that suited people who didn't want to drive to Wellington."
He said international flights from Wellington were to and from Australian cities and most flew from Auckland.