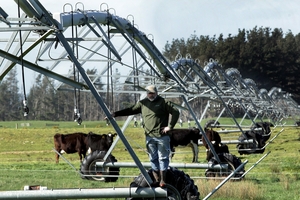 It cost $1.5 million and took nearly three years to get, but water from the Waitotara River is helping treble productivity on the Hawkens' coastal farm.
Gary and Marie Hawken are grazing 900 dairy cows on their 600ha Kereone Farm near the mouth of the Waitotara River. They also have an agricultural and earthworks contracting business that employs six people.
Next year, they plan to spend more millions on converting their farm to dairy.
Mr Hawken said most of the South Taranaki coastal strip had moved from sheep and beef farming into dairying during the past 20 years.
"Twenty years ago, if anyone said we would put a dairy farm here we wouldn't have believed them."
The first dairy farm in their area was in Lennox Rd 16 years ago. It's a Parininihi ki Waitotara (PKW) farm that now milks 900 cows.
South Taranaki farmers have converted to dairy because the returns are better - especially since the price of wool is so low.
The Hawkens will aim for a herd of 1000 cows, and it will cost at least $2 million to buy them. They will have to build a milking shed and will probably build three houses too - for a manager, a second in charge and three workers.
Mr Hawken converted to dairy grazing about five years ago, after buying brother Alan out. The farm is 300ha of flattish sand country, with the rest a mix of low hills, river flats and peat swamp.
The pair wanted continuous grass growth, and applied for consent to take water from the river.
They can now take up to 200 litres a second, and this is the second year they have used it. They have 140ha irrigated at the moment, with more pipes and infrastructure to add. They hope to have 350ha irrigated by midsummer.
They are smoothing out the slopes of coastal sand dunes and also fertilise with two truckloads of chicken manure a week. The change has been amazing.
Where they were growing five to six tonnes of dry matter a hectare per year, of poor to average grass, they can now grow 14 to 18 tonnes of quality grass.
The grass is worth 17 cents a kg to them if it's feeding a heifer, or 35 cents if it's feeding a winter dairy cow.
They usually graze 1200 dairy cows on their farm. This year it's been drier than usual, and they only have 900. They get $6.75 to $25 a week per cow for the grazing.
Water from the river has to be pumped 5km to the farthest reaches of their farm, and they share a riverside pumping station with the neighbouring Parsons.
Water can't be taken for about 10 hours a day on some days - mainly in high summer when there's low flow and high tides - because it is too salty. The take is also limited when river flows are low.
It took nearly three years to get consent to take the water, mainly because the local iwi had "issues to work through".
The Hawkens supplement the river supply with consents to take water from two bores, and from a pond fed by a drain on their property.
Irrigation isn't the only change on their farm. They're also undertaking earthworks to smooth the coastal sandhills so pivot irrigators can move across them. They're investigating which grasses will grow best on the sand country.
They considered allowing oil companies to incorporate drilling waste into the sandy soil, in a practice called "land farming" but Mr Hawken is glad they decided not to - because milk buyer Fonterra has decided milk from land farms needs too much testing.
Taranaki Regional Council rules limit the amount of nitrogen from irrigated dairy effluent that's allowed to leach through soils to 200kg a hectare per year.
It doesn't limit the number of cows they can carry but they must be kept out of waterways and off the beach, resource management director Fred McLay says.
Applying fertiliser is permitted, provided adverse effects are minimised. The council monitors the level of nitrates in groundwater, and Mr McLay said they had not risen with the rise in coastal dairy farming.
The couple will likely begin their dairy farm venture by selling milk to Open Country Dairy rather than Fonterra, because they won't have $3 million to spend on Fonterra shares. They'll probably choose to run Friesian cross cows, because they're smaller and suit the land and their milk is high in the protein targeted by Open Country.
The current dry is worrying for them, coming after last season's drought. Mr Hawken said they were lucky the "long, beautiful autumn" got grass growing again.
Their stretch of coast can have continuous wind in spring, which dries the soil out fast unless there is rain with it.
That wind once made the Hawken property a possible site for a Mighty River Power wind farm, but the company gave that idea away as it prepared for partial sell-off.
"We would have had 13 to 20 windmills on the place, and been getting $12,000 to $15,000 per mill. The noise is annoying, but you can live with the noise if you are making the money," Mr Hawken said.
The wind has other effects. The March 3, 2012, howler wrecked an irrigator and reduced some of the Hawkens' 15ha pine plantation to matchwood. Mr Hawken is thinking to use natives as shelter in future, because trees such as pohutukawa can stand up to the gales.
The couple aren't looking to turn their entire property into lush, flat pasture. They have fenced off a stream which is prime whitebait habitat. They've also fenced off two lakes, and put one into the Queen Elizabeth II Trust.