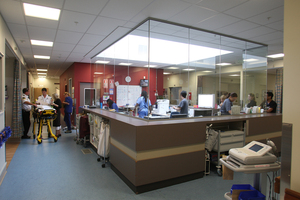 Work will begin soon integrating Whanganui Accident and Medical (WAM) and Wanganui Hospital's emergency department in an attempt to make them more patient-friendly.
Since 2008, the two services have existed next to each other at Wanganui Hospital, with a single reception area.
The emergency department is owned by the Whanganui District Health Board and offers emergency care.
WAM is part of the Whanganui Regional Health Network (WRHN), formerly the Primary Health Organisation, and it provides GP services after hours or for those who do not have their own GP.
Emergency care is free, while WAM services attract a charge.
Most people who walk in the door are seen by WAM, but may be sent through to emergency.
WRHN and the health board have agreed to form a joint steering committee to find ways to make the two services easier for patients to use.
Judith MacDonald, chief executive of WRHN and a health board member, said patients who arrived at WAM didn't care "who employs who".
"What patients want is a more seamless service - they don't want to have to explain themselves to two different people."
Mrs MacDonald said staff, led by four senior managers from the two organisations, had identified areas of weakness and strength in the current set-up.
The steering group will focus on the weaknesses.
Mrs MacDonald said a major problem was record-keeping - emergency uses paper while WAM has electronic records.
She said an IT system was being prepared for all health organisations in the lower North Island, but it would be rolled out to WAM much later to the emergency department.
"That's frustrating for us. We will be looking at ways we can get around that, such as a temporary IT system. To have a joint IT platform would definitely be an advantage."
Mrs MacDonald said the integration project was important to the WRHN, but change could not happen overnight.
"There will have to be a lot of comprising on both sides, but we expect that patients will see significant changes within the next year."
Health board chairwoman Kate Joblin said most of her board were supportive of WAM and emergency looking for ways to become more closely aligned.
"There are lots of benefits in having the two service co-located and having WAM within close reach of both radiology and the emergency department."
At the last health board meeting members supported the collaborative work, but would like it to happen quicker.