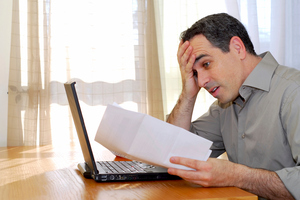 Millions of man hours are being lost due to staff chasing payment for overdue invoices.
Debtors, accounts receivable, unpaid invoices or - plainly put - people who owe you money, potentially create 1.5 million hours of work a month for staff chasing the $2.5 billion owed in unpaid invoices in New Zealand. Every month.
These are the numbers extrapolated from a Kiwibank survey of 411 businesses that employ 19 or less staff.
There are 455,907 businesses that fall into this category and each have, on average, seven invoices overdue a month, worth an average of $823 per invoice.
Almost 70 per cent of businesses are waiting on overdue invoices each month and, to shorten the length of time it takes to get paid, two-thirds of companies now have terms in place to ensure payment is made within a month.
And the value of those hours - at an hourly wage of $27 - amounts to $40.5 million a month spent on wages to chase overdue accounts in New Zealand.
Kiwibank's head of business banking, Mark Stephen, said the economy could perform better if people paid bills speedily.
If you have a business that is often left chasing invoices, there are some steps you can take.
Get customers to sign a terms of trade, agreeing to pay you within a certain period of time. Outline any interest that could be charged if invoices are overdue and how you'll chase up unpaid debt. Keep signed guarantees from them on file.
Make sure your business sticks to the processes, too. Have a set system where you follow up with a reminder after a set period of time, and then a phone call, before calling in the big guns such as debt collectors.
Sometimes you can cut down on unpaid invoices before they even happen by picking your clients carefully to begin with.
But you will be pleased to know that payment times between businesses are getting faster.
Cash-flow cycles are getting healthier, according to Dun and Bradstreet's most recent analysis of business-to-business payments.
Low interest rates, strong trade relationships, stable risk environment and post-earthquake construction investment have resulted in business-to-business payments improving by two days from the previous quarter to an average of 41 days.
As better payment cycles continue, cash flow, in turn, will improve for other firms. This is good news for businesses, and also for employment opportunities.
Jeremy Tauri is an associate at Plus Chartered Accountants.