Jake White and Ewen McKenzie will keep the pressure on Wallabies coach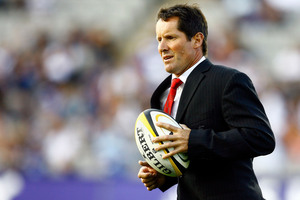 A series win against the Lions will be a massive fillip for Robbie Deans' coaching longevity with the Wallabies.
He is under growing heat for his title with Brumbies coach and former Springbok World Cup winner Jake White totting up the merit points this week in Canberra as his team held out the Lions.
The narrow, stoic Brumbies victory put an extra red tick in his coaching dossier, which oozes pragmatism rather than idealism.
From his days in South Africa, White understands the consequences of results.
Matches are to be won. It does not matter how.
In Brisbane, Reds coach Ewen McKenzie tried another tactic when he sought to marry panache to the pursuit of success against the Lions - and came second.
Context does come into it though, with McKenzie's troops facing a much stronger Lions side than the one that faltered in the trying conditions in Canberra.
There was also a political message underneath McKenzie's tactics.
At the Reds he is wedded to the talents of five-eighth Quade Cooper and this was a stage for both coach and player to offer declarations about their futures in Wallaby rugby as a by-product of a new team pattern.
Several months back, McKenzie said this would be his last season with the Reds. His next destination was blurred but not the message. Nor the timing.
McKenzie's departure gave him and his political allies several cracks at pushing for a change to the Wallabies.
The Lions series, starting tomorrow in Brisbane where the hosts have never beaten the tourists in six attempts, was the opening segment.
Then there was the Rugby Championship where the pro-McKenzie mob will continue to decry Deans' lack of success against the All Blacks.
It's not like they are leaning over the railings on Vulture St in Brisbane but the message is there in capital letters.
Australian rugby politics is still quite jaundiced with state lines rather than national interest having an impact on courses of action.
When John O'Neill was in charge, he was able to manage the situation and was a great ally for Deans. He handpicked Deans and persuaded him if his international coaching ambitions were rebuffed once again by the NZRU in 2007, then the Wallaby job was his.
It was a strong package and an association which benefited both.
O'Neill's departure has brought in new chief executive Bill Pulver with former test centre Michael Hawker as board chairman to deal with some growing tension.
This time the usual twin-state coaching stoush has a new component, a new player on the block with some heavyweight credentials.
Where Deans' allies had better political control of the push from the McKenzie brigade, they now have to deal with the extra attention from White. He calls Canberra home and is keen for another top-shelf rugby tussle. The Brumbies and their results are his ticket.
White's issues will be questions about his style and whether that would entice more television audiences and spectators in what is a fierce commercial sporting market in Australia.
A smaller section need to be convinced Australia could cope with another outsider in charge, when they have a homegrown option in McKenzie.
All White can do is build a record and he has done that in two grafting years with the Brumbies.
Deans, whose sides have played 71 tests for 42 wins and a draw, is not unaccustomed to the squeeze, but the attack from several fronts is a different challenge.
The Wallabies' success ratio under Deans is approaching 60 per cent but the arch enemy has not been quelled. Not even close, although the 18-all draw against the All Blacks last October in Brisbane subdued some of the critics and halted the visitors' run at a world-record sequence.
It was a Band-Aid rather than a tourniquet.
Three wins and that draw is a very spotty Wallaby results chart in 18 tests against the All Blacks since Deans took over.
Other accusations are dished out too that the Wallabies have lost their elan and ignored the excitement quotient in their backline.
Whatever the outcome of the three-test series with the Lions, the wham bam double-header start to the Rugby Championship against the All Blacks in August will have more impact on Deans' time in the job.
Those twin tests to start the series are on August 17 and 24, two weeks after the Super 15 final and whatever player complications the conclusion to that tournament brings.
Unless he decides otherwise, Deans will take the Wallabies into the Rugby Championship.
But if he and his group cannot find at least one transtasman result on successive Saturdays in Sydney or Wellington, the third and final clash in Dunedin on October 19 might be a test too far for Dingo Deans.