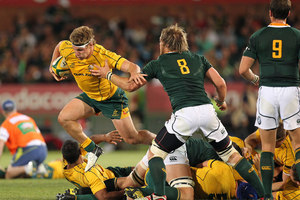 The greeting is a bit unnerving when you are used to brusque conversations with rugby players.
"Gidday, mate. How are ya, we're done for the day, let's get into it."
The speaker is Wallaby flanker Michael Hooper, one of the crop of young players who have been pushing their claims in the absence of injured captain David Pocock.
Hooper, Liam Gill and Colby Fainga'a are three of those tyros with Beau Robinson keeping them honest as well.
Hooper does not blow out 21 candles until later this month but already he is comfortable in the test arena.
If anything, his game looks more rounded than that of Pocock, whose fitness, tackling and staple skills at the ruck are much better than his linking and evasion work.
That's not a topic the well-spoken marketing student would buy into anyway.
"My way is just to pick bits out of how all sorts of players do their work, choose the good points and then work even harder on my game to get all sorts of areas sorted," Hooper said.
He has spent a few seasons in Canberra with the Brumbies and this year increased his knowledge and skills under the group's coaching guidance.
Head coach Jake White brought his experience of taking the Springboks to a World Cup triumph in 2007. Australia's latest Hall of Famer, Stephen Larkham, assisted and Laurie Fisher worked with the forwards.
When another of the squad's tyros, Fainga'a, was injured, Hooper took his chance. It was all part of rugby's roulette wheel.
Hooper had felt the injury curse in his final year at school when he underwent a shoulder reconstruction and later when he wrecked his ankle in the trial game for the under-20s.
"It's all about how you deal with injuries, get back on the field and work on preventing those sorts of things happening again."
Hooper grew up on the northern beaches in Sydney, a typical sort of youngster who felt at home around the sea near his Collaroy suburb and working on his rugby with Manly.
But in his first year out of school he headed for the colder climes of Canberra and life as a development player for the Brumbies.
Progress was rapid.
Hooper made his Super rugby debut that season against the Chiefs and was a certainty for the under-20s world tournament in Argentina until he damaged his ankle.
He made amends last year when he went to the same age-group tournament in Italy and earned his team's Player of the Year award.
After three years in the capital, Hooper is heading home to the Waratahs next season - a shift that works neatly as Pocock has signed for the Brumbies.
"For that time, Canberra was a great opportunity," Hooper said.
"At the start George Smith was the only No7 there and he was my mentor in my first year out of school."
Smith might have seemed reserved off the field but he was a huge help to Hooper, always taking him through scenarios and offering suggestions. He pointed out that there was no right way to play the game, that players' physiques and skills meant everyone had different ways of dealing with situations.
"He made the point that everyone had different skills like he and Richie McCaw when they were in combat.
"I think George's big thing was being able to pick his time when he was going to attack a ruck. Flying into dead breakdowns is not something we want to be doing and it's those sort of decisions you learn from your seniors."
Tomorrow Hooper is up against McCaw after their first duel at Eden Park, when the All Blacks reclaimed the Bledisloe Cup.
They did not meet during the Super rugby season but Hooper had always watched how the All Black captain dealt with his duties.
"It was cool to see him on the other side of the scrum, it was awesome to play the All Blacks and go up against the best," he said without any trace of gee whizz in his observation.
"I did not know what to expect other than he was a great player and would be tough. I quickly found that out, that he had a great engine, was very consistent and had lots of involvement in the game. We have to work on how we nullify that."
When Smith played for the Wallabies he was in constant competition with Phil Waugh and David Croft for his job and that sort of rivalry was now back in the Wallabies.
"It just helps with the level of competition and that can only be good with me and Liam [Gill] fighting it out for when David [Pocock] comes back."
Hooper said he had left the star-struck stages of his test debut. He still pinched himself that he was a Wallaby test player but everyone was in the same situation and the key to being on your game was to find the right methods of preparation.
Shifting home to the Waratahs under new coach Michael Cheika was another step on the development ladder and he felt they had a strong roster for next season.