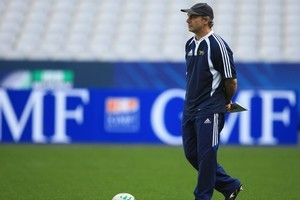 While they are entering new territory by taking on New Zealand, Australia and South Africa in the unimaginatively named Rugby Championship this year, Argentina's rugby players will remain the poor relations within Sanzar.
While they are no longer the forgotten men of world rugby - they finished third at the 2007 World Cup but did not play in any other major competition - the Pumas will slightly close the gap on their better-paid colleagues in the other three countries. But not by much.
The size of that gap can be seen when it is understood that, during the 2011 World Cup, the All Blacks received almost 10 times the amount that the South Americans banked in terms of weekly allowances. Leaving aside win bonuses and annual contracts, each All Black player received $7500 for every seven days they were in camp, worth an extra $160,000 per year in earnings. The Pumas in contrast were given US$700 ($839) per week during last year's World Cup.
That figure should increase in 2012 thanks to more money in the pot. The Argentina Rugby Union (UAR) can count on new revenue streams from television rights, new sponsors (Nike has recently signed on as apparel sponsor in a deal worth over twice the previous adidas deal) and financial help from the IRB.
However, the UAR also has plenty of new costs to meet and player payments will remain almost negligible, a factor that is not causing concern among the experts.
"Our players are not the type who say pay me this much or I won't play," says former Pumas coach Marcelo Loffreda. "They understand there is always difficult, complicated circumstances."
Loffreda, who was in charge for eight years, including their historic third place at the 2007 World Cup, adds that Argentinian players have a great capacity to adapt and are always positive in negative circumstances.
"Maybe it will change in 10 years but at the moment I don't think the limited resources that Argentina has will be an impediment," says Raul Perez, who played for the Pumas for a decade and has since coached Las Pampas.
"The players of this generation - who are doctors, lawyers, architects - still play rugby because they love it; they play because of passion."
"The players have always been very tolerant with Argentina and have never received a lot," says Daniel Baetti, Loffreda's assistant coach. "It is part of the deal. They will continue to make sacrifices and remain extremely proud, extremely patriotic. Of course, if [the Rugby Championship] turns into a huge business, they will ask for their share."
While the Pumas receive a minimal amount from their union, most are banking significant sums of euros or sterling from their European clubs. Indeed, the top 25 Argentine players are believed to earn the same or more than the All Blacks (aside from Dan Carter, Richie McCaw and Sonny Bill Williams). Things are also moving in the right direction back in Argentina.
Players in the Las Pampas team receive a monthly allowance that helps them devote more time to training while those in the wider squad also receive free health insurance, university scholarships and gym memberships among other benefits as the slow transition from purely amateur rugby takes shape.
Though final details are still to be confirmed, later this year the newly established high performance unit of the UAR will contract 10 players as resident professionals in Argentina, the first in that country's history.