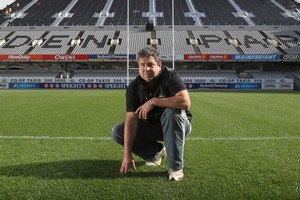 One spectator at tomorrow's Rugby World Cup match between Wales and Australia will be hoping more than most for an open, running game of rugby.
Eden Park's painstakingly prepared turf faces its biggest audience yet at Sunday's Rugby World Cup final, with 61,000 fans in the stands and tens of millions expected to watch on television.
Head groundsman Mark Perham said his pitch must first endure a few days of spring rain and a third-place playoff.
Mr Perham said slow, gritty matches played in the middle of the ground did the most damage to his pitch.
The England-France quarter-final left his ground with more divots than any other World Cup game.
"They just spent a lot of time in the middle section of the ground. They had a lot of reset scrums, and not much running.
"We definitely get less damage to the pitch when we have two sides that are willing to play open rugby."
He stood at the side of the field at every match, showing the odd grimace when 1600kg of forwards dug their studs into the turf.
Ground staff have had to replace 30sq m from the middle of the Eden Park field after it became too worn. While this was only a fraction of the 2000sq m of spare turf on standby in Karaka, Mr Perham said he would prefer not to have to replant any more before the final.
His team of six staff have banned machinery from the grass this week, except for the final mow today.
Watering has been cancelled after yesterday's deluge in Auckland.
Mr Perham said the ground had performed well in its nine World Cup games, but he still lost a little sleep when he heard rain on his roof at night.
"We've just been really lucky between [double-headers] that we've had good weather. It's looking good for Friday, Saturday, Sunday, but we are never completely relaxed."
He said the opening ceremony put more pressure on his ground than most rugby games, so he was thankful there was no full-scale closing ceremony.
Just 20 staff will be involved in the final presentation of the Webb Ellis Cup, compared with the footprints of 1000 people on opening night.
The end of the World Cup will not signal a break for the ground staff. They will be back at work next week re-sowing and mowing the grass, and rugby posts will be replaced by soccer goals for the Wellington Phoenix's first match at the ground on November 19.