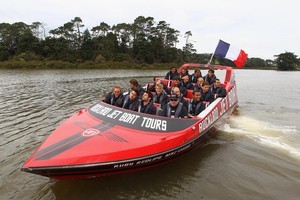 The Wallabies and the French team took different approaches to a day off yesterday in Auckland.
The defeated Australians, who now have the third-place play-off match to prepare for, spent time on Takapuna beach, braving the less than summery conditions to dip their toes in the water.
The bronze match is the least anticipated at the World Cup, with two losing semifinalists competing at the end of a long tournament and without any trophy on the line.
Wales upset the Australians in the corresponding match in 1987 at the inaugural World Cup after the French beat the Wallabies in the semifinals.
Captain James Horwill said yesterday he wanted to use Friday's match as a shot at some small measure of redemption after the bitter disappointment of losing to the All Blacks.
The French players, meanwhile, dined out with a traditional Kiwi barbecue at the Riverhead Tavern and took a jetboat ride.
France's erratic form has won few admirers, but the confidence of the players remains intact heading into Sunday's final at Eden Park.
"It's crazy, we're the only team in the history of rugby to lose two pool matches and reach the final," France prop Fabien Barcella said. "We're a team that cultivates contrasts. We've taken some hidings, maybe we've come out of it stronger mentally."
- AP