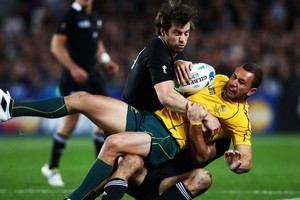 Britain's media have joined Australian scribes in attacking the Wallabies for a lacklustre effort in last night's 20-6 Rugby World Cup semi final drubbing by the All Blacks.
England's Telegraph newspaper declared "Australia should feel ashamed - they play like England", saying its aerial "took us back in time".
"How much have we heard about not wanting to go back to the aerial ping pong of 2007," Mark Reason wrote. "Australia took us back in time, yesterday. South Africa tried to play a bit. Not much, but a bit. Occasionally they even put two passes together before a big man biffed up the middle. But the Australians are afraid to make a mistake.
At one point you wondered "if this was England in disguise."
South Africa's Independent Online said Australia were "beaten fair and square".
"There have been darker days in Australian rugby but surely few quite as raw and painful as Sunday's World Cup semi-final loss to New Zealand."
Meanwhile the Telegraph's Ian Chadband also took aim at number 10 Quade Cooper, saying it "was almost possible to feel sorry for this cocky customer"."
"Welcome home, Quadey, Richard Kahui, his old pal from the little forestry town of Tokoroa, must have told him after lining him and smashing him backwards after he had clung on to an up and under. Timber!"
Cooper is also in the firing line as the media across the ditch reacted to Australia's defeat.
The Wallabies' pivot had a forgettable match as the men in gold were outplayed across the park.
Sydney's Daily Telegraph put the boot into Australia's star play-maker Cooper, who has failed to spark in the Rugby World Cup.
"Quade blooper strikes again", the headline read on the website's home page.
"Since the day the Wallaby five-eighth arrived in the country he has been booed from one end of the Shaky Isles to the other," reporter Mike Colman wrote.
"It wouldn't be right to say that it has been an orchestrated campaign to unsettle Australia's playmaker. Actually, yes it would. That's exactly what it's been."
The Kiwi-born Wallaby first-five was also targeted by the Sydney Morning Herald's Josh Rakic.
"If that was Quade Cooper's best game ever, as captain James Horwill fearlessly declared it would be on match eve, then one can only wonder what his worst has been," he wrote.
"The Wallabies' World Cup campaign lies buried in the graveyard of Eden Park after they were bundled out of the tournament by the All Blacks last night," Bret Harris wrote.
"Even though the Wallabies said they did not believe in hoodoos, they suffered their 13th consecutive loss at Eden Park, dating back to 1986."
ABC News picked the All Blacks to repeat their 1987 Rugby World Cup triumph when they take on France next Sunday.
"The Tri Nations champions were bloodied and beaten in every aspect by a ferocious New Zealand onslaught, that saw the hosts dominate from the opening kick-off and fluster the Wallabies into a multitude of errors."
The Sydney Morning Herald's Greg Growden called on Aussies to "get in behind our neighbours".
"Although the Wallabies have occasionally antagonised them, the All Blacks have been clearly the best international rugby team since 2007, and hopefully will bring all this pain and ardour to an end this weekend. And, hopefully, all of Australia get behind their trans-Tasman neighbours in their bid to bring back the Webb Ellis trophy to this part of the globe."