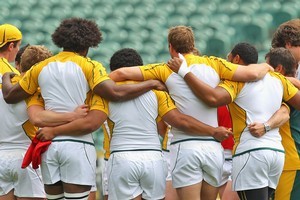 To call the All Blacks match against Australia tomorrow night simply a rugby game would be crass. It is a piece of sporting theatre that has this nation by the throat.
But Ewen McKenzie does not do gross excitement. Even that Super 15 title win earlier in the year for his Queensland Reds invoked only a passing, modest smile.
"It has the same feel to me as 1991," he said. "There was a tight game for us in the quarter-final which we just snuck through [against Ireland, when Australia won in the final minute].
"We then played the best game of the tournament in the semifinal, against New Zealand [later to be known as Campese's match]."
And the Wallabies went on to win the final against a northern hemisphere team, in that case England.
Deja vu? The man called Link is probably only being a touch disingenuous. He does a nice line in tongue-in-cheek. But he does make one thing clear about tomorrow night's semifinal.
"We play them more often than anyone else. It's not an easy game but there is a familiarity there. Personally, I look forward to the games we play against them."
McKenzie said the old New Zealand intimidation, forged upon the haka, today led by Piri Weepu (pictured), no longer bothers the Wallabies. "These guys [the present day Wallabies] don't worry about things. Our generation was more worried by things like the haka. But these guys look forward to such opportunities.
"It is a different mindset now; they want to play these big games. And that's a good thing because you don't want to be crippled by anxiety. Perhaps some teams worry and think about playing them too much, especially in the northern hemisphere."
Reasons to be cheerful for Australia? "Well, we can't play much worse than last week. In fact, I know we will play better.
"New Zealand have always been under pressure, they have a very proud record [especially against Australia at Eden Park].
"But they don't win every game. OK it's Auckland and Eden Park but it's still a footie field, it's still got grass in a rectangle. The environment you put to one side. So it's well set up."
No-one knows the mind of first five-eighths Quade Cooper better than McKenzie. He brought the best out of him in the Super 15 this year yet Cooper seems to have lost his way in this tournament.
"Sure, it wasn't his finest game last week. But I haven't seen him play badly in the two years I have been involved. In fairness to him, their game plan changed a bit; they tried for more field position than usual.
"I know his nature, he likes to boss the game. But Australia had much less possession than usual last week, they were working off scraps. A lot of things in that game needed tidying up, such as the Wallabies losing five of their lineouts.
"It wasn't all about Quade. A lot of people didn't play their best game."
McKenzie said he was always confident the New Zealand people would do a good job of hosting the tournament. "It's their No 1 sport and people were always going to pitch in and make it work. Everyone has been very civilised and there has been good rugby too.
"The sides who had mainly kickers at No 10, such as England, Ireland, South Africa and Argentina were beaten. It has been the outside halves who have taken the ball to the line, committed people and looked a threat who have helped their sides reach the semifinals."
McKenzie is not in Auckland this weekend. But he is crossing the ditch next Friday. Oh dear, does he know something others don't?