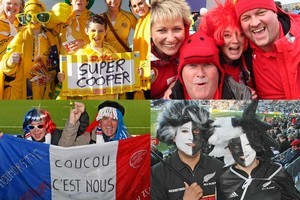 Derek Cheng, Isaac Davison and Michael Dickison catch up with some avid Rugby World Cup supporters who are looking forward to the semi finals.
WALES
Ecstatic was the mood following the Welsh win over the Irish in Wellington, so much so that this quartet of fans are supremely confident Wales will make the final.
Glenn and Susan Davis, from Ystrad Mynach, and Colin Davis and Vicky Dwyer, from Cardiff, are so sure of their team's destiny that they are bypassing the semifinal against France to take in the sights of the South Island.
"Wales are definitely going all the way," said Glenn Davis after the team's 22-10 victory.
"We were very confident we'd beat the Irish. Our backs are absolutely outstanding. We're looking forward to playing the French in the semifinals.
"We'll slam them, we'll smash them. Bring on the All Blacks in the final."
The quartet will be back in Auckland for the final after 11 days on the Mainland.
And who are they picking to win it?
"I don't really mind," Glenn Davis said.
"The All Blacks are my second team anyway. It would be great if Wales won, but realistically, no."
However, he thought New Zealand losing Dan Carter would have an impact, and although the team was more than one player, it might not be more than two.
"It might depend on [All Black captain Richie] McCaw. If he's there, we've got problems, but otherwise, if he's not, or if he's not up to form, then we've got a chance.
"We'll give them a good run for their money."
Glenn Davis was sporting his fearsome dragon balaclava to support his team. Except it was a cow, not a dragon.
"I bought it in Raglan. I wanted something made of New Zealand wool, but I bought it and saw it was made in Taiwan.
"We're very peaceful people, the Welsh," he said after being told the cow possibly lacked a bit of menace.
Vicky Dwyer said the group had toured the North Island and were thoroughly impressed.
"We've gone up as far as Paihia, we saw the kauri trees, we've been to Rotorua, we've done blackwater rafting through the Waitomo Caves, and now we're going south to Kaikoura to go whale-watching, and then to Queenstown.
"New Zealand people have welcomed us with open arms everywhere we've gone. People wave at our motorhome from the side of the road.
"New Zealand is awesome. Fantastic."
- Derek Cheng
NEW ZEALAND
We put our wedding on hold, so All Blacks should put their drinking on hold, a New Zealand couple said during the quarter-final encounter with Argentina.
Craig Barrett and Cate McDonald, from Hamilton, had planned to marry during the Rugby World Cup quarter-finals but have delayed the occasion until next month.
"I didn't want a grumpy fiancee if the All Blacks lost," said Mr Barrett.
"If we do lose, hopefully we'll be over it by then."
The face-painted couple said, tongue-in-cheek, that the New Zealand side should make some sacrifices, too.
They were referring to allegations of heavy drinking and smoking involving some All Blacks in the lead-up to last night's quarter-final at Eden Park.
Winger Cory Jane and the injured Israel Dagg were reportedly spotted a bit worse for wear in a Takapuna bar on Thursday night.
"Drinking responsibly is okay. But it's a game of inches, and we don't want anyone to muck up on the field. We haven't had this chance in 24 years," said Mr Barrett.
"Cory Jane now has to have a great game every time. He didn't even have to front up like Zac Guildford did."
Ms McDonald added that a few celebrations would not look out of place as long as the NZ side were winning, but if they were knocked out, the public would turn on them - as was happening to the English.
The engaged couple said they had downgraded their wedding because they had overspent on the World Cup. They estimated they had spent $10,000 on travel and tickets, money which would have otherwise been spent on the ceremony and reception.
Asked where they made their savings, Ms McDonald said: "On guests. We had to look at how close we really were to some people. We had started with about 120 [guests], but now we're down to about 90."
Mr Barrett said he was disappointed with the outcome of the earlier semifinal in Wellington, where Australia knocked out South Africa.
He said he was haunted by the last time the All Blacks faced Australia in a World Cup semifinal.
"If Australia take a 15-point lead again, I'm not sure I'd back us to come back.
"The Springboks would have been a much easier way to get through."
- Isaac Davison
AUSTRALIA
"Super Cooper." The sign said it all.
Young Australia fan Hamish Carmichael is in no doubt who the greatest player in the world is, and who will be the central factor in the Wallabies lifting the William Webb Ellis trophy in two weeks.
"Quade Cooper. He's super, he's fast, and he scores lots of tries," Hamish said.
Has he deserved all the abuse and boos he's had during the tournament?
"Not at all. He's a really nice guy," says Hamish, who adds that Cooper is a family friend.
Despite the one-eyed support, Cooper had a mixed game in the tense 11-9 win over the Springboks last night in Wellington.
And how will the Wallabies, and Super Cooper, cope with the All Blacks in the semifinals?
"It will be a struggle, but we'll win. We'll win it all!"
This sextet of Brisbane-ites - Hamish, Jenny and Sam Barrett, Ethan and Maegan McCall and Caitlin Lavin - have had a slightly unusual World Cup experience.
They have been roaming the coasts on board the enormous cruise ship Rhapsody of the Sea - with 2000 people and 500 crew - which has been berthed in Wellington Harbour, right on the doorstep of Wellington Regional Stadium.
"It's pretty cool, the ship," said Maegan McCall, adding that the sunny Sunday was a marked improvement from the southerly that swept through the capital on Saturday.
They have spent more time on board than exploring New Zealand, though they had a hit-out in Napier, and this week they are heading up to the Bay of Islands.
On board, they have been singing up a storm with karaoke, and enjoying the indoor climbing wall, movies, food and cocktails.
Caitlin Lavin is the only one of the six heading to the semifinals and final.
She is sure Australia will come out on top, though not quite sure why.
"I don't know. Blind faith."
- Derek Cheng
FRANCE
Triumphant France had a visiting fan rapturous about the players, the match and all of New Zealand - but he has already booked to fly home after the next round.
"Everything is beautiful in New Zealand. Today, we were great," said Olivier Chator, decked out in a wig of tricolor braids.
Mr Chator is visiting from Bordeaux with his wife, Sylvie, to follow the French around New Zealand, and they will be returning to Eden Park this week to cheer on their home side in the semifinals.
The Chators have been touring the country for more than two weeks.
"Last week was very difficult for us [losing to Tonga]," Mr Chator said.
"But today we were more disciplined, played more correctly. Everybody did his job.
"It was much better," he said.
France beat England 19-12 in a dominant display that set up a semifinal meeting next weekend with Wales.
If they win again, it will be an unlikely run to the grand final for France, who looked out of sorts during pool play and lost to the All Blacks 37-17 just over two weeks ago.
Mr Chator, however, is not counting on the national side to still be in contention after the Wales match.
"I hope... but Wales have been playing very well," he said.
He has put his money on France failing to get past, having now booked flights home for him and his wife.
The couple will return to Eden Park for the semifinals - then pack their bags and fly off to France.
Mr Chator is picking the All Blacks to go all the way instead of his home team.
He said he would be cheering for New Zealand, returning the hospitality he and Sylvie had received here.
Everywhere they went, people had been kind and keen to strike up a conversation.
"I think they have a special relationship with France ... For us it's been wonderful."
- Michael Dickison