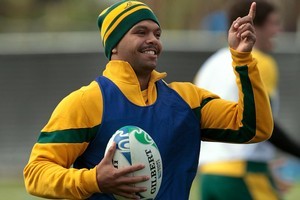 Wallabies second-five Pat McCabe doesn't believe he will be given any special attention by South Africa in their titanic quarter-final clash in Wellington on Sunday.
The 23-year-old has recovered from a shoulder injury, which he suffered against the United States at Wellington Regional Stadium two weeks ago, and will take the field in the biggest game of his career.
He claimed the No 12 jersey ahead of the talented Berrick Barnes, who has been named on the bench after an impressive display against Russia last weekend.
"I'm not sure there's time for that sort of stuff to be focused too much on individuals in that sort of area," McCabe said when asked if he expected to be targeted.
"I guess at 12 I'll be making a fair few tackles and I'm confident that I'll be fine."
The Brumbies midfielder admitted he didn't expect to make it back in to contention for the knockout games when he was dealt the injury blow.
"No not at all. I think there was obviously some dark moments in the sheds just after the game, obviously [thinking] that I was gone for the tournament and wouldn't be able to experience what's coming over the weekend. So it's been a long sort of week and a half but I'm really glad to be here."
McCabe's direct style of play and ability to defend strongly have seen him picked over Barnes, but it is likely that the former Broncos playmaker from the Waratahs will come from the bench in the second half to weave his magic.
"That's what we'll get by playing them in this order, so we believe that'll work for us," Wallabies coach Robbie Deans explained.
Barnes' ability to kick drop goals could be vital late in the game, in what is expected to be a tight tussle.
The bookies can't separate the sides and had them at $1.87 each today (Friday) and Deans said the Wallabies' strong recent record over the Boks - they've lost only once in the past two years - counted for little this weekend.
"It's not relevant this week. If you look at the history, sides that have done well pre-tournament have normally suffered in tournament. So we are certainly not taking any comfort from any of the history. History will be created this weekend and we desperately want our piece of it."
McCabe's inclusion was one of a number of changes the Wallabies announced when they named their side today.
Lock Dan Vickerman has edged Nathan Sharpe to start in the second row, while Kurtley Beale (hamstring) and Digby Ioane (thumb) return to the backline.
No 8 Radike Samo takes his place at the back of the scrum after being given a gallop on the wing against the Russians.
Both sides know each other well through playing numerous internationals and a heavy diet of Super Rugby against each and Wallabies hooker Stephen More said the little things would tip the balance.
"There's going to be big pressure moments in the game that are going to be telling," the Brumbies hooker said.
"Normally there's quite a few in a big game like this. So it's who wins a majority of those and I guess makes the least errors that gives the opposition opportunities. There's no doubt that right across the board all the quarter-finals will be tight games. So every contest is going to matter to the result."
The winner of the game earns a likely semifinal against the All Blacks and coach Graham Henry wished both sides the best.
"I hope they knock 25 bells out of each other, I think that would be great; all come off buggered," he said.
Kick-off is at 6pm on Sunday.
- APNZ