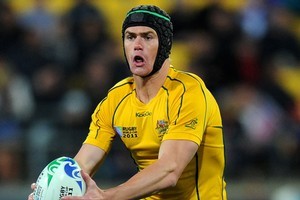 Like a field marshal after a battle on some far-flung field, Robbie Deans surveyed his wounded troops yesterday before declaring that the news was grim, but not as grim as feared.
The Wallabies fell like flies during their 67-5 win over a second-string USA team at Wellington Stadium. Many of the 11 tries were impressive in their execution, but the collateral damage tempered any joy.
At a quick glance, those who have no chance or are in serious doubt to meet Russia in Nelson next weekend are: Pat McCabe (sub-luxed shoulder); Rob Horne (fractured cheekbone); Anthony Faingaa (concussion); and Wycliff Palu (hamstring strain).
Add Digby Ioane's broken thumb suffered against Italy to the list and the Wallabies are getting extremely thin, particularly in the backs.
Kurtley Beale (hamstring) and Adam Ashley-Cooper (ankle) were also nursing minor complaints after Friday night's win, but nothing that is expected to keep them out for any length of time.
Injured forwards David Pocock, James Horwill and Scott Higginbotham are all progressing well, said Deans.
"At first glance it does not look as grave, possibly, [as feared]," he said, before giving details of the roll-call of the wounded.
All will travel with the few remaining healthy members squad to Christchurch today, where various MRIs and associated fitness tests will be carried out. Decisions will then be made about a possible replacement, or replacements, being called into the squad.
The name of Matt Giteau is beginning to loom large again.
The most spectacular of the injuries was Faingaa, who collapsed in an unconscious heap after putting his head into the wrong side of a tackle.
"Of all the injured blokes, he's probably in the best shape, funnily enough," said Berrick Barnes, a player who knows a thing or two about concussion.
Barnes said there was no point comparing what he went through during the Super 15, when another head knock had him contemplating early retirement, because every player recovered differently.
Faingaa's coach reiterated that he would not be training or playing until fully cleared by medical staff, but that early signs were good.
"He has presented very well," Deans said. "He can remember everything, including the moments leading up to the tackle, so that's a great sign. We'll monitor him, obviously it was a significant event, as we all saw, and it's not something we mess around with."
Deans has been here before. As assistant coach of the 2003 All Blacks, the teams injury lists was such that they had Norm Maxwell in Australia being spirited around different hotels, never being allowed to train with the team, but on standby in case one more of their number went down.
It is an option - bringing across another player, not Norm Maxwell - Deans will consider if any of the recoveries look like they could hit a snag.