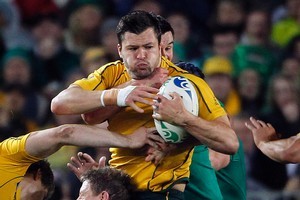 Advance Australia Fair.
After Ireland's fair dinkum win over the Aussies at the weekend, the Wallabies may find themselves advancing home early if they don't sort it out.
Naturally, we would love that - if South Africa dispatch them in the quarter-finals, we won't have to see their ugly mugs at all.
I chose not to go to the game at Eden Park on Saturday because after watching Australia dispose of Italy a week earlier, I thought it would be much the same. A close game in the first half and then Australia smashing them in the second.
Little did I know the near-full stadium would host a game of epic proportions before a crowd that made the Irish feel as if they were playing in Dublin. The atmosphere at the park and around the city was electrifying. The World Cup is a wee way from the playoffs, but the hoopla is outstanding.
The celebrations kicked off in the city at midnight with jammed bars, queuing Irishmen, revelling Kiwis and the odd morose-looking Aussie wondering whether to shed their yellow bits.
Admittedly, it must be hard for them when something like this happens. We give the Aussies a really hard time when they're winning but when they're down, we can be cruel. To their credit they are gracious losers.
This is not a sympathy flag - I have met my fair share of them on the netball court and found many Aussie males to be chauvinist pigs.
We know, all too well, that it won't be long before they are back on top with their chests out, arrogance abundant and viewing us as they always have - indifferently.
But speaking to a couple of Aussie fans at the beginning of the cup, I was surprised to hear their views on the All Blacks. They see the All Black machine as the greatest asset for rugby.
They view it as bigger and brighter than their own Wallaby brand and they revere all that it represents. I was taken aback. We agreed that the ultimate rugby showdown is one between the All Blacks and the Wallabies.
Alas, now we will probably have to put up with boring stodgy northern hemisphere rugby in the final from either England or Wales. The main upsides to northern rugby are hot Italians and the cute Frenchmen.
But it's nice to know the Aussie hoodoo at Eden Park is still alive regardless of who they're playing.