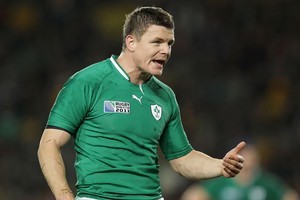 Irish icons Brian O'Driscoll and Paul O'Connell have never mastered rugby life in New Zealand. They have been proficient on visits but nothing like the reputations they earned and the deeds they produced in the arenas of Europe and South Africa.
Nearly 200 times between them the pair have worn the famous green jerseys and white shorts into battle for their nation. Rugby World Cup jubilation had never gone further than the quarter-finals and Ireland had never beaten the Wallabies in four previous tournament duels.
Several were desperately close, one-point nightmares in 1991 and 2003 and last night was another nailbiter but this time Ireland got the goodies.
They made a great start on that record, holding the Wallabies to a 6-all deadlock at the break and showing them some Irish clout round the set piece work at Eden Park.
They brought a strong, gnarly nuggety front row who nailed their work and provided the platform for the back five to deliver their thrust.
Sometimes there was no headway but every now and then they nudged the Wallabies, forcing resets or extracting penalties when Sekope Kepu and Ben Alexander dropped their binds.
After one Wallaby disintegration, halfback Will Genia was picked up and frogmarched backwards as Ireland poured through like a hyena tracking a lame prey.
It signified the Irish will, the passion they brought against some of the more orchestrated Wallaby work.
Who would crack? When the Wallabies played Italy in their opening game they went to the oranges with the same scoreline before pulling away for an authoritative victory. That was helped by the injection from the bench of men like James O'Connor.
Last night he was on the field from the beginning and saw little ball to make much of an impression. Most of his work was on defence, defusing Irish bombs or clean up work.
None of the Wallaby firepower got much leeway. Quade Cooper started like a gem, putting his opening drop kick on the money and forcing Ireland to take it out.
The Wallaby scrum began strongly, earning a penalty in the 10th minute but it began to stagger as the half wore on. So too key players. Cooper made a poor option or two, Genia was squeezed for room.
The deeper the game went, Ireland sensed this might be their time to beat the Wallabies at a World Cup.
O'Connell seemed to soar higher in the lineouts, O'Driscoll pulled off some wondrous flip passes and subterfuge. While the big guns fired the artillery was right with them. The scrum dug deeper, flanker Sean O'Brien was a massive force and Jamie Heaslip an immovable rock.
There was a grit and a resolve, there was no bend in the Irish arm-wrestle, no leaks in the defensive line and no way Irish eyes left their task for 80 minutes.