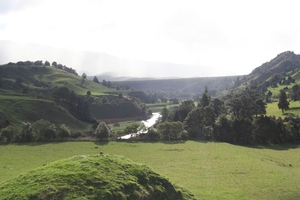 The logic for water storage is irrefutable, with the Intergovernmental Panel on Climate Change (IPCC) predicting New Zealand could face a future climate of heavier extreme rainfall, stronger and more extreme winter winds plus longer periods of drought.
"Climate change is a constant on our living dynamic planet," says Dr William Rolleston, Federated Farmers' climate change spokesperson.
"There are three basics to growing pasture and crops, and they are soils, sunlight and water. While many countries have the first two, it is water, or the lack of it, which limits food production in a world where the supply and demand for food sits on a knife edge.
"Aside from being a net food exporter in a world of increasing food shortage, New Zealanders can be very proud that our farmers are among the most carbon efficient in the world. This extends to our country's role in the Global Research Alliance on agricultural greenhouse gases and the Palmerston North-based Pastoral Greenhouse Gas Research Consortium.
"This efficiency saw the Daily Mail last year write, 'Buy New Zealand lamb to save the planet'. In May, the UK's Observer on Sunday ran a feature entitled, 'Why worrying about food miles is missing the point'. In it, our carbon efficiency was lauded.
"Newspapers are reporting that NZ can expect a climate on average 0.9 [degrees] Celsius warmer by 2040 and 2.1 C warmer by 2090.
"We have two options for adaption. First is researching new crops and pasture varietals.
"The second, of course, is the huge opportunity we have to store rainwater.
"South Canterbury's Opuha dam, the most recent dedicated water storage facility, which started operating in the late 1990s, has proven itself by insulating South Canterbury from drought. It is schemes like Opuha, such as Ruataniwha now being proposed in Hawke's Bay, which New Zealand needs to build resilience into our economy and society.
"Stored rainwater provides the means to maintain minimum flows.
"Every region should be looking at storing rainwater and many currently are. This report should hasten that work.
"While I do not know a lot about trout fishing, what I do know is this: trout live in water and not in dry riverbeds.
"If water storage is being opposed for purely political grounds," says Rolleston, "then those same people who talk about the need to respond to a changing climate need to recheck their logic."