Numbers man sets export growth target for Pipfruit NZ.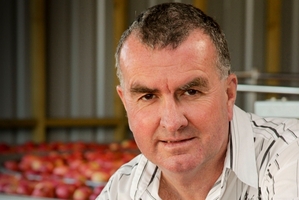 The man tasked with growing New Zealand's apple exports by at least half over the next decade admits he knew nothing about apples when he moved from Christchurch to Hawke's Bay to take on the job.
But Pipfruit New Zealand chief executive Alan Pollard, an accountant with experience mainly in managing legal practices, does know a thing or two about numbers.
For 18 months after making the move to Hawke's Bay (he'd had enough of earthquakes and aftershocks) the apple industry became a numbers game with a strategic plan for export growth of at least 50 per cent over the next 10 years.
Pollard is confident he has the support and unifying will of the people to reach the target by 2022 - 475,000 tonnes of apples exported a year, compared with about 310,000 tonnes this year.
These aspirations were unveiled in August at the Pipfruit NZ annual conference in Hawke's Bay, a year after Pollard had told his first conference in Nelson that the challenges the industry faced were far greater than he had anticipated.
He isn't daunted, even with hiccups such as the recent finding of post-harvest rot in a small sample of Hawke's Bay apples landing in the crucial growth market of China, and the voluntary suspension of apple exports to China.
Meeting the target means more than trebling the supply to Asian countries from 61,000 tonnes in 2010 to more than 200,000 tonnes, or increasing the share of the market in the region from 3.8 per cent to 10 per cent.
This comes on the back of the 2008 free-trade agreement with China, which has led to a five-fold increase in exports to China.
It won't be any news to port-watchers in Napier that logs are a big part of exports, now comprising one-third of the three million tonnes of all product to all destinations.
The proportion of exports to China via the Napier Port is also heading to the one-third mark.
Pollard told the August conference that the challenge in the apple market is to maximise growth in Asia and the Middle East while maintaining current volumes or increasing share in the more traditional export destinations.
Another challenge is to increase the size of the nationwide orchard by half, from 8700ha to 12,700ha - which should be a cinch if Hawke's Bay is indeed the best place in the world to grow apples.
That means increasing tree production from about 1.5 million to 2.6 million a year, making sure there's enough water and adding as many as 4000 seasonal workers to the 11,000 currently required to pick and pack the fruit crop.
Pollard, 52, is married with a daughter in Wellington, two other daughters overseas and a son who plays first-class cricket for Wellington.
He congratulates the Pipfruit NZ board for deciding on a "fresh approach", and says the industry has been "generous with their time and support".
Whether for growing, post-harvest or science, the region's industry innovation matches its acclaimed conditions.
"What drives me," he says when asked if he'll still be around in 2022, "is the fact that we have this vision, and it is very achievable. We have to have a lot going for us, and I want to be a part of that."