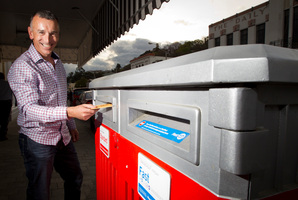 THERE is a feeling of inevitability with the announcement of the cutting of postal services to three days a week in urban areas.
The difficulty is a service, such as post, has got to have a demonstrable need, backed up by volume.
When phone and mail were literally the only means of distant communication it was a colossal industry. In the '70s you could leave school and walk into the post office to get a job.
All of us can remember the pleasure of walking home and anticipating something in the mail, preferably with airmail stripes and stamps from exotic locations. Ever had an unrequited love affair by post?
It's awesome (albeit ultimately tragic).
I embraced the post culture utterly, learning calligraphy and using wax seals to create minor works of art, in order to impress a distant correspondent (inevitably a girl).
But, in the end, it was the modernisation of communication - the internet - that allowed me to discover my wife. It is quite possible my last use of personalised post was sending out the thank you notes to our wedding guests seven years ago.
What is so hard about emailing? I frequently hold my grandfather up as an example of "getting on with it" because he tackled emailing early on after realising he was going to miss out on communicating with his grandkids.
He usefully emailed me advice on women while I was in England.
You can't feed an industry on nostalgia alone. I would be the first to admit the personality of a letter is hard to beat, and hanging up the Christmas cards on a string above the window adds a certain "people love me" tone to the house in December.
There is also the issue that while most everyone can write, not everyone can type.
Still, our letters to the editor are mainly email, from those who have a point to make.
The need to connect is human nature. The culture to do it is online. It is what it is.
For more articles from this region, go to Wairarapa Times-Age