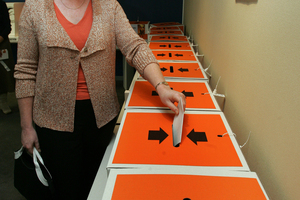 IT IS going to be interesting to note how viable the Letters to the Editor section is going to be now that I've called a halt on letters on the Archer St cemetery gates while I do some research on the topic.
The thing is, I would really like the letters to the editor to have a vibrancy and a content that extends beyond one topic. Editors keep an eye out on the letters, for potential stories, and the cemetery gates is worthy of that. You could liken it to a letter campaign that has gained some traction in the newsroom. But, in the meantime, I would hope that there's more opinions out there, on any topic.
The other letters I've had to say no to are politicking letters from candidates in the local body elections. I have asked - repeatedly - that candidates should make an effort to make themselves newsworthy, but the letters to the editor is not the forum for that. If I open that door, I'd be swamped with them. I do allow candidates to "react" to a direct question or criticism, or even an inference, from either a letter or a news story. That is a basic right-of-reply concept.
But I would much rather candidates raised an issue with us directly, allowing us to seek more information and balance as part of a news story.
The letters to the editor is also the public's opportunity to ask your own questions of candidates. We can publish their replies.
In the meantime, the Times-Age will continue to initiate discussion and feedback from your candidates. Over the next few days, we detail what issues the candidates believe are important in your wards. We'll hear from the candidates wanting to represent Wairarapa on the Greater Wellington Regional Council. And we'll hopefully get down to community board level and find out what they're wanting to tackle.
It isn't easy to incite political fervour in a province that is not particularly aggressive in elections and has nothing like the complexity of infrastructure or the population of other centres. Nonetheless, if I asked you, given a magic wand, what would you change, I'm sure you would come up with something. The candidates certainly don't have magic wands but, after October, some of them will have the power to spend your rates. It would be a good idea to ask some questions.
For more articles from this region, go to Wairarapa Times-Age