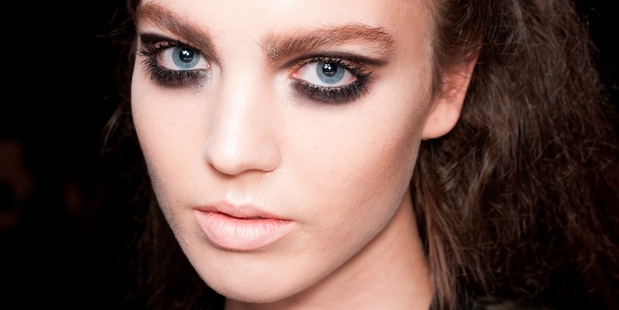 Fashion Week proper was kissed goodbye with tomato red lips at Kate Sylvester. The show was like a ray of sunshine, breaking through a glowering sky. It put to bed three days of beauty and fashion looks with an often grungy feel in favour of an autumn-winter 2015 fashion forecast that thankfully includes a few bright spots.
If you want to focus attention on the eyes, the newest ways are by creating a patina with unexpected sepia tones - or going crazy with liner. Apply smudge-proof formulas thickly or treat your wider eye area as an art project by tracing unexpected lines as seen at a number of shows this week.
Lips remain mostly nude, but with an earthen edge or a prettier pink tinge. The Lorde inspired dark lip is morphing more into a just-bitten red. Red as directional seems a contradiction - seeing it's the go to classic glamour colour - but as Sylvester showed, with a slight variation in shade it becomes a standout.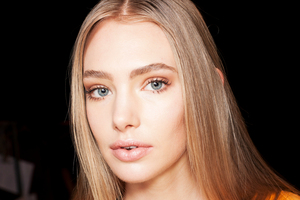 Celine Rita
The week's prevailing tawny take on eye shadow was in evidence at the day three opening show by Celine Rita.
Makeup director Kate Solley used one of the look's go to products, M.A.C's Pro Longwear Paint Pot in a tan shade called Groundwork. This won't-budge cream shadow has become a basic in my personal makeup kit and I'll be trying it with a lighter lip, like she did, for a fresh feel.


New Generation
Unlike Celine Rita - where L'Oreal ironed hair into submission - this group show with the Schwarzkopf team at the helm, favoured a perkier soft wave, well-suited to a surprisingly strong youthful showcase, particularly the jaunty Itzme label.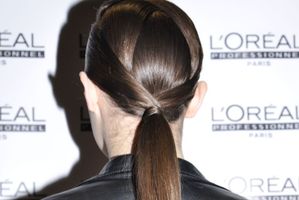 Trish Peng
The Asian referencing seemed contrived, but the origami ponytail that Michael Beel of Buoy salon in Wellington favoured for this emerging designer was beautifully executed. Its sleekness suited the lean lines of her evening wear. By sectioning hair, he was able to wrap it flat down and around, creating a diamond-effect fold above the pony tail. Less successful was the calligraphy style eye created by Smashbox. Liner used non-traditionally - away from the lash-line - has been seen several times this week, following international runway trends, but in this case the placement of the series of fine lines, off from the outer-corner of the eye, reminded me of a cat's scratch marks.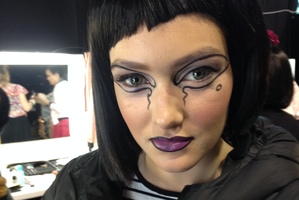 Annah Stretton
Eyeliner was taken further off-piste by Phoenix Cosmetics for Annah Stretton. Phoenix Renata explained the look as harking back to pop art, the 60s and the girls who hung out at Andy Warhol's Factory. She used big lashes and cream highlighter, then got to work free-handing with black liner, including as an outline on models' lips, which were in-filled with vivid violet.
Models wore period appropriate black wigs, cut into a slightly asymmetric bob, but the combination of the blunt hair and the exaggerated eye shape was also confusingly reminiscent of depictions of Ancient Egyptians.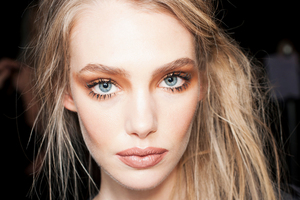 Coop
The Coop show was also in the hands of makeup director Nicole Thompson, who came up with my favourite version of the blown out brown eye. She gave it a sun-kisssed feel, by layering ochre and golden tones. Other shows have veered into cooler green or grey-tinged taupes, with striking but less inviting effect. Thompson said hers was a warmer, "caramelly look, with a yellow-gold filter on skin." Lips were pencilled, giving their nude shade more depth. A bronze cream colour base was also worked into skin for a warmer look.
Michael Beel for L'Oreal set out to create hair that looked like the girls had done it themselves. He enhanced its natural texture with beach spray and then, from an off-centre front parting, he took two long lengths from either side of the head and pulled these to the rear where they were simply knotted. Tendrils were left loose around the face and neck.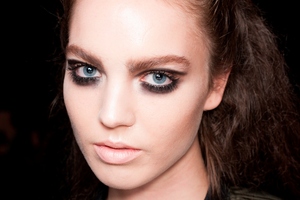 Hailwood
Eye liner also featured strongly at Hailwood, worn intensely smudged under the eye and introduced along the brow bone as a lifted eye outline. M.A.C senior artist for Oceania, Nicole Thompson, who has been over from Sydney helping the local team, directed the look. This veered away from Hailwood's usual liking for glamour into being inspired by a "hard girl," hence the cosmetic darkness.
Warhol's doomed muse Edie Sedgwick was given an update with backcombed hair that had something of the bouffant of her younger years, made more modern thanks to the updo being deconstructed and texturised. Fraser Foulagi who directed the Ryder team for KMS, said he was aiming for a mix of mod and biker influences. He came up with two takes: one with hair caught in twisted loops at the nape and the other with the ponytail brushed free.
Thompson said she was thinking of "a messed-up underground Twiggy" in designing the makeup. Lashes were applied top and bottom and then heavily mascara-ed. "It's not polished 60s, it's dirty and fun," she said, telling makeup artists backstage this meant their application should be "nothing too precise." Skin was kept matte, but with a few pops of shine. A shimmery and shining nude lip finished this feral fatale.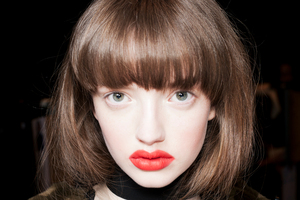 Kate Sylvester
This was the week's most anticipated show, marking the return of Kate Sylvester, who recently celebrated the 21st birthday of her business. Her thematic approach, ensures a coherence to clothes, ably supported by her beauty look. This time the Kate Sylvester girl, had more than a little of Kate about her.
In fact, Matt Benns of Stephen Marr, who directed the hair look for O+M, said: "Inspiration we had for the look was of Kate herself and women in winter with hair tied into their jackets." This translated on the runway to models with floaty hair secured by way of a neck scarf that cinched it in at the nape. Prepping was with mousse to give body to centre-parted hair before blowdrying. It was then brushed out with a boar bristle brush.
Kiekie Stanners for M.A.C said Kate's liking for red lipstick meant for very definite ideas about shades. A lip feature was quickly decided upon and it was to be "a punchy tomato red."
"It's a particular shade that Kate wanted and we've done a perfect full lip, but a little diffused."
Against the collection's standout acid lemon dress the matte lip colour is spot on. The rest of the look is clean, with only fluffy brows and a little bit of shading on the skin really standing out.