Women spend their adult life wishing for baby soft skin, but how best to handle this precious substance on a baby or toddler? Timed with the inaugural Viva Junior issue, beauty editor Janetta Mackay talked with an industry expert about what you need to know.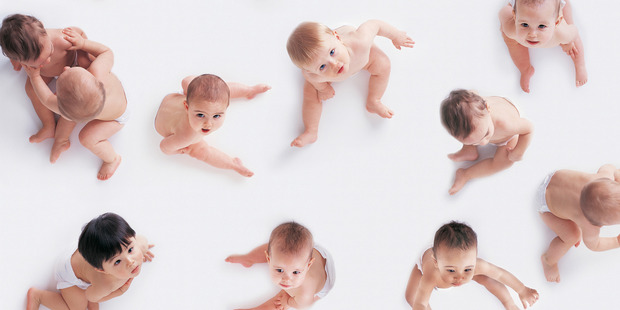 Sharon Dowling, research and development manager (medical affairs) for leading company Johnson & Johnson, shares her advice. She recommends always using products formulated specifically for the needs of young skin, saying in its first year it can be 10 times more sensitive than adult skin. It also absorbs and loses water (moisture) faster, leaving it vulnerable to dryness and irritation which can lead to other skin problems.


Parents are often given products for their new arrivals, what should the gift giver think about in making these choices?
Since baby skin is up to 30 per cent thinner than adult skin and is going through major development, we know it is very susceptible to the environment. If a baby's skin is not adequately protected, it may experience damage. Products should be mild and gentle in formulation. (Unsurprisingly, Dowling recommends Johnson's Baby soap free, pH balanced products).
Is organic and natural invariably good for the skin?
There is a big trend towards natural and organic products, but we encourage mums to do their research.
Regardless if the product is "natural" or not, mums should ensure that the product they are using has been specifically developed for baby skin and tested to very high standards. While all mums love the idea of using natural products, we know that natural isn't always best. For example, we know that many mums use olive oil on their babies because it is natural, but the reality is that olive oil contains high levels of oleic acid which can break down the skin's protective barrier.
In caring for young skin, what sort of products are best for bathing and shampooing?
Bathing with cleansers that are not specifically designed for delicate infant skin can potentially lead to irritations and dehydration. Some parents choose to bathe in just water, anxious that they might use the wrong product or that bath products could upset the skin's delicate balance. Unfortunately, water alone isn't always enough to remove all impurities. Left on the skin, impurities can cause the delicate skin barrier to break down leaving it prone to redness and discomfort.
What about moisturising, is this necessary?
Emollients and moisturising agents not only make baby skin soft, but actually serve to support and maintain a healthy skin barrier, helping to prevent the onset of common infant skin conditions. Many parents mistakenly believe that, because their baby's skin doesn't appear dry, it's perfectly healthy, unfortunately, that's not always the case.
In research conducted by Johnson & Johnson, mothers were first surveyed to find out if they perceived their baby's skin to be lacking moisture. As many as 90 per cent of mums said they did not believe their baby's skin was dry, however, after dermatological tests were performed, results showed that as many as 60 per cent of their babies did, in fact, have clinically visible dry skin.
Where does massage fit in?
A gentle massage soothes even the youngest baby. It relaxes and calms them, it helps them sleep longer when used as part of a routine, and best of all, it helps form a lifelong bond. When massaging your baby, it helps to use a baby oil or lotion. Just a little on each hand reduces friction and makes your touch more soothing, and the protective layer it forms on your baby's skin helps to stop it from drying out.
If babies have broken skin or red bottoms, do these areas need special attention and with what?
Cleansing baby's delicate bottom area at nappy change time is essential. Any impurities left on skin are a contributing factor to nappy rash. At least one episode is experienced by up to half of babies and it can be distressing. Nappy rash is mostly caused by the specific environmental conditions inside the nappy, but it can also be caused by infrequent nappy changes and chafing nappies.
Keeping the area clean and dry is the first step in controlling nappy rash, however, a thick barrier of protection will also assist to help prevent the severity and onset of nappy rash. Emollient-enriched baby wipes provide added cleansing ability to cotton wool and cloths.

Are skin sensitivies (eczema etc), becoming more common?
Yes the incidence of eczema does appear to be rising over the last decade. A parent should always see their healthcare expert when their child is demonstrating signs of a skin condition or reaction.