Sabato's Phil and Jacqui Dixon taste their way around Europe on an enviable business trip.
It's a tough job but someone's gotta do it: Phil and Jacqui Dixon of Mt Eden's gourmet foodstore Sabato, which imports fine foods primarily from Spain, Italy and France, regularly travel to Europe to research food trends, source new products, visit fine dining institutions and catch up with suppliers. Here they talk us through their latest mouth-watering itinerary, which takes in London, Spain and Paris.


London
London has a seriously diverse food culture, with experiences ranging from fine dining establishments to markets, to speakeasy cocktail bars. It's a good place to start, and gives us time to catch up with our daughter Helen, who lives here.
We begin with gastropub The Pig's Ear, where a very traditional highlight is their Scotch egg. There is currently a proud revival of all things British: meat, cheese and classic baking, which is reflected well at Brixton Market, along with the food of a myriad other cultures. It's full of cute character shops and cafes; we enjoyed coffee at Federation Coffee then later had the best burger and chips at Honest Burgers.
Visiting Neal's Yard Dairy offers a fascinating insight into the world of artisanal British cheese; these people certainly are the experts. Calum, our cheesemonger at Sabato, is one of their tribe. His friend James gave us a tour of the facility where they nurture their cheese. It's a wonderful place, with our only concern being that there may not be enough cheese to send to us.
The Five Fields, a relatively new and beautifully designed restaurant was one of our two fine dining experiences. Run by talented young chef Taylor Bonneyman, the foie gras was presented as a glistening, gold-tipped beetroot, while coffee came with homemade lollipops and sherbet. The other meal was lunch at Heston Blumenthal's Dinner, where whole pineapples hang over a medieval-looking grill in preparation for the famous Tipsy Cake dessert.


Barcelona
It's always fun to go to Barcelona! This time we met foodie friends at Suculent in Rambla del Raval. Since the highly talented Carles Abellan also has a taverna a couple of doors down, and the position is just off-central, this slightly seedy area seems about to become gentrified.
The ambiance was so relaxingly local, matched with some truly fabulous dishes and such friendly service, we assumed this was a family-run restaurant. We found out it was chef Antonio Ramirez in the kitchen, and this was also part of the Carles Abellan group. Look up and try his other excellent places - here is a man who is making his mark.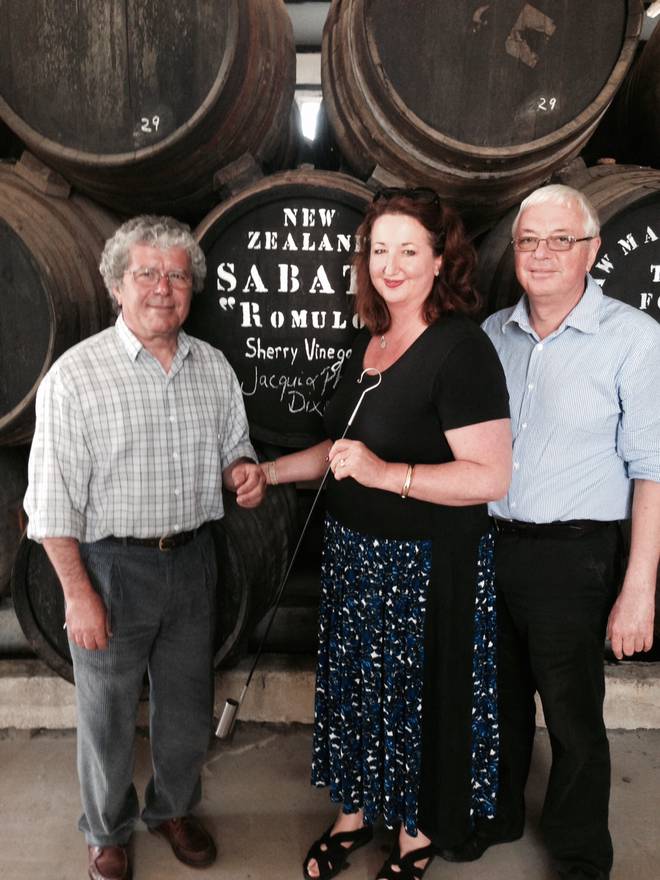 The architecture of Gaudi is a fabulous feature which sets Barcelona apart from any other city. Pons (artisanal olive oil producers) had taken over his famous Casa Batllo for a party. Anything this family does is exceptional, and here they matched their elegant wines with different food, highlighting a new olive oil scented with Tabasco which they spritzed on dishes, deliciously complementing both beef and prawns. We definitely see this having possibilities in New Zealand.
Pepe Cabot at Ca L'Estevet restaurant in El Raval was fizzing with excitement when we dined there, not only had his maitre d' been named one of the 10 best in Barcelona and featured on the cover of Time Out magazine, but recently Facebook CEO and co-founder Mark Zuckerberg had discreetly dined there. During the same trip, Zuckerberg had entirely booked out the very famous establishment Tickets for an evening. We were fortunate enough to be taken there by Albert and Enric Roca of Forum vinegar.
We saved Granja Elena, run by the Sierra family for three generations, for our final lunch. It was as good as ever with Patricia at the helm proposing delectable wine to complement the best of seasonal food offered by her brother Borja.


Jerez
Jerez de la Frontera is home to our traditional sherry vinegar maker, Capirete, also the maker of our much-appreciated Romulo. Capirete is a company of just six, all family, headed by oldest brother Pedro Paez Lobato. The business was founded in the 1930s, originally in the sherry wine area, making the change to vinegar as the sherry industry declined.
Pedro drove us to meet his youngest brother Javier at the original site where there is an office and some barrels. At the main bodega, where the bottling is done, we meet the rest of the family and Pedro educates us about his lovely vinegar. This family is very proud of what they make, referring to it in the feminine form and speaking of rearing it.
It starts in the Criadera barrels then progresses to the Solera barrels as it ages and in their case, is made from either palomino or Pedro Ximinez grapes. We were taken through an aged tasting which Pedro, using a small cup on a long flexible handle to take vinegar out of the barrels, delivered to our glasses without spillage. Yes, there is a method to tasting vinegar, with Phil having a better technique than myself, and mine being frequently corrected by Pedro.
As recognition of our 18-year association with Capirete, Pedro led us into a room where one of their precious barrels was emblazoned with a dedication to Sabato. What a nice thing to do! With some ceremony I signed it on our behalf and we took photos.


Malaga
We headed east to Malaga to meet Joaquin Cano, of Sabato supplier El Corazon. He thought we should have the classic churros for breakfast, so took us to a crowded cafe specialising in them. There are a few styles including a short fluted northern Spanish one and a huge circular coil called the Madrileno. The Malagan one, though smaller, was fried in olive oil and came piled high on a plate. No chocolate sauce here - just eat them with your coffee.
El Corazon make membrillo (quince paste), often used to accompany cheese. It is perfect with the manchego and valdeon cheeses we import, however in New Zealand, chefs have used it melted with Valrhona Manjari chocolate as a filling for tartlets, in savoury sauces to go with meat (especially venison) as well as in ice cream and desserts or cut into cubes and rolled in sugar as a jube. Joaquin's company is very small, just four people, and his recipe is his grandfather's. It is very simple - quince and sugar, boiled for hours.


Paris
Paris takes chocolate quite seriously, as shown by the many beautiful specialist chocolate boutiques dotted around, simply too tempting to resist. We were staying in the charming St Germain, just down the road from the elegant department store Bon Marche, whose Grande Epicerie is a destination in itself. We had a reservation at Semilla, which has had rave reviews recently, and found the food and service were both excellent.
Two of us ordered the cote de boeuf de race Normande, which was such a beast that it required the participation of all four of us. Perfect pommes puree accompanied it. This enterprise, and the restaurant Fish La Boissonnerie, sandwicherie Cosi and wineshop La Derniere Goutte (The Last Drop) are all co-owned by talented New Zealander Drew Harre, who has operated in the St Germain area for 35 years.
Our last stop was another classic spot where you cannot book. Instead you queue to get in to Le Comptoir du Relais. As well as spicy crayfish bisque with slivers of piquillo pimentoes, we enjoyed pork with morels and a Valrhona chocolate dessert, with a nice burgundy.


- VIVA