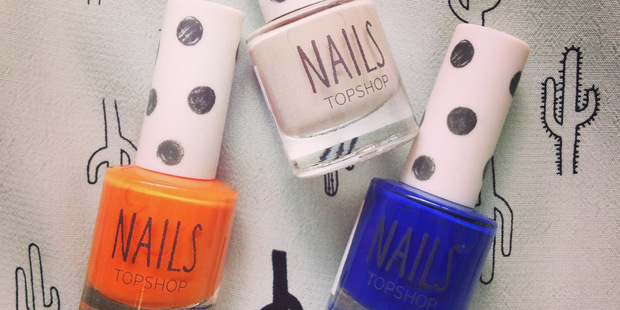 I painted my own nails on Friday. This after a solid 12 months of trusting them to nobody but the lovely girls and one stalwart, smiling guy at the Pampered Nail bar on Auckland's Richmond Rd.
If you're in there this week, tell them I miss them. They are dear-hearts. Tender, loving nail technicians who will not balk at your outlandish choice in polish (not even the green one!) and will take the utmost care of your precious fingers and toes. They also have Wi-Fi in the salon, and they won't put the horrible pink lotion on your legs during a pedicure without asking you first.
All of this is as it should be, and part of the reason why last Friday was my first go at doing my own nails in recent history. My hopes weren't high, going into it. I am not an advocate for DIY in this regard. In fact, I don't know why anyone in their right mind would want to deal to their own gnarled, hang-nailed extremities, when a relatively modest outlay buys you gentle, professional attention for your tired hooves and claws.
Manicures, as well as being compensation for PMS, bikini waxes and bread bloat, are one of the great hallmarks of civilisation as far as I'm concerned. Maybe it's because I don't drink anymore that I've come to set so much store by them; certainly on more than one occasion, a lengthy mani-pedi has been the only thing standing between me and a screaming nervous breakdown. They're a mental health essential, alongside guided meditation, and anything cashmere when one is feeling drained.
But needs must, when the devil drives. I am far from the auspices of a manicurist at the moment, and forced to paint alone. I don't want a medal or anything, but I think I came out of it rather nicely. Three days in, and the Rimmel is going strong. Dried in a flash also. There's even a little clock on the bottle to illustrate the rapidity of the turnaround.
The apparatus has evolved, too; the brush seems to be smaller and flatter, rendering the whole operation pretty much idiot-proof. It's not a professional job by any means - my cuticles remain ragged - but the sight of red fingernails on keyboard is one of those little joys that make soul clap hands and sing. With apologies to W. B. Yeats, who I nicked that line off, and who never got a pedicure as far as I know.
You probably think I should get out more often. You're right, I suppose. But sometimes style is a feast of fancies, and sometimes it's the small touches that elevate the ordinary. I don't wear makeup in this house. I slip down to my desk some mornings in the clothes I slept in. I need something to remind myself that I have standards. Even if I only attend to them for 60 seconds or less.
- VIVA