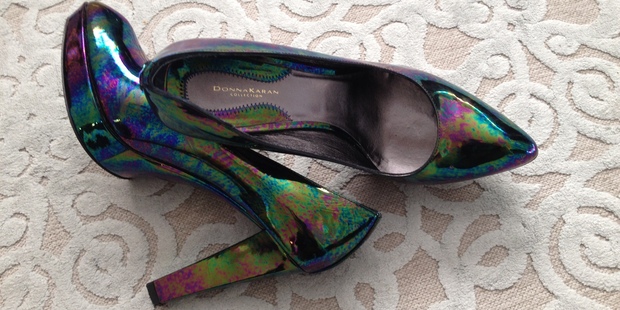 High on a rack in my wardrobe there's a box containing a pair of shoes I adore. Slim-line patent leather pumps with an oil-slick effect and a high, narrow heel that isn't quite a stiletto.
They don't fit. Yet, I bought them anyway. Truly. (Madly: obviously. Deeply: because they weren't even an impulse buy).
I first spotted these shoes in the window of Ashley Ardrey, High St, a decade or so ago. The price made me wince, but oh, I loved the look. Writing in Viva this week about Proenza Schouler's new makeup collection for M.A.C, which features anodised metal packaging inspired by the look of an oil slick, reminded me of the shoes. Of how they were languishing, not unloved, but unworn. Of how sometimes rationality departs when it comes to shopping.
For the most part, I weigh my purchases carefully. I prefer to buy in-store, not online, because I like to try things on before paying. I often sleep on my decisions. If I get it wrong, I return, exchange or offload. These days that doesn't happen too often, because I'm pretty clear about what I like.
I also hoard, especially evening wear, accessories and shoes, because you never know when something might come in handy and along with coats, these items date less obviously.
The advantage of age and a wardrobe full of well-loved clothes and shoes is that the latest trends can be cherry picked. Adopted or ignored. But just when I'm starting to feel smug, along comes a reminder that sometimes common-sense goes out the shoe store.
I coveted those damn DKNY shoes, I tried them on, I wavered. A sale came along, I tried them on again. They weren't the right size.
That should have been the end of it, but several years later those same shoes caught my eye again in the store's Newmarket outlet. Post pregnancy, they say it is common for women's feet to spread a little larger and I swear mine went up half a size. So instead of the shoes obviously being too big, they were just a little loose. Inner soles and heel grips were suggested.
It was meant to be, I decided. They were also half the original price - and while hardly bargain bin, I figured they were a cinch.
I've worn these wonders precisely twice. On both occasions the combination of their height and my heel lifting too easily from the shoe's sole was unsteadying.
A second child is out of the question now, so there will be no stretching out to conquer these killer heels. Neither do I fancy stuffing the toes with tissue paper or risking an ankle overturn like a runway model with petite feet forced to stride forth in a plus-sized sample.
So there they sit in the wardrobe, a sorry testament to lust-have overcoming common-sense. A mantelpiece would be a better place to put these trophy shoes - if only I had one - both as a reminder to always shop wisely and because I'm still crazy enough to love the damn things.
- VIVA