Michal Mckay reflects on the tremendous influence that her mother, Eleitino Paddy Walker, had on her personal and professional life.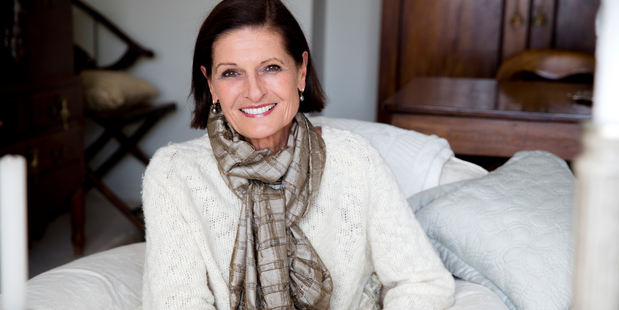 Viva contributor and former magazine editor Michal McKay talks about how her mother's inimitable sense of style and purpose has influenced and inspired her.
One of my earliest childhood memories is of sitting at the piano on my mother Paddy's knee, with my chubby fingers trying to keep pace with hers as she shared her talent and introduced me to the glorious world of music. Paddy is a gifted pianist and composer. As a child of the Pacific who came to boarding school in New Zealand from Samoa at the age of 10 with no more than a suitcase and a ukulele, it was that gift that formed her future.
The paths she followed may have been divergent, but the links to her Polynesian heritage were the foundation. Being one of Auckland's beauties was a clever cover-up for a woman of indomitable will-power; a strong Samoan trait she taught me at an early age - to be the best I could be.
My father returned from the war with TB. He lost a lung and spent years in the Hanmer Sanatorium. With nothing but sheer determination to find work and a strong interest in clothes (I had a wardrobe any little girl would covet, all made by my mother), she hied into Hays Department Store and announced to Sir James Hay - the owner - she wished to work in fashion.
Like so many since, he succumbed.
As the store's first fashion co-ordinator she introduced mime and movement to her seasonal parades making them the "must-see" occasions for Christchurch's fashionable women. It was the beginning of her first successful career. Yet despite the load of running a home single-handedly and working, my mother kept me close with comfort and care. She was also vigilant in instilling in me life's lessons - the need to not necessarily win, but to always give it your all.
As I merged into teenage years and developed a strong love of dance and music, she would get behind the piano keys and play for hours as I rehearsed for yet another school competition. In fact, whatever I showed even an inkling of interest in, whether academic, athletic or artistic, endless enthusiasm and positive support were provided in spades by both parents.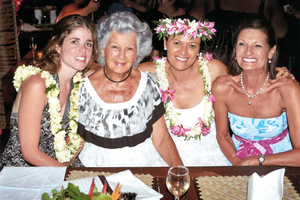 But so was discipline. Ours was by necessity a household run on a schedule. Obedience was an expected return. And heaven help you if you crossed the boundaries. Honesty was our mantra from both mother and father, but it was my mother's warmth, compassion and unfailing love whenever I fell down, that were the pivot points. My friends who measured up to her high standards, adore her. And it is well known that I have a coterie of "sisters" who regard my mother as theirs.
She has been their constant source of advice, solace, guidance and love with her innate ability to make everyone feel special. This is an attribute I appreciate but can at times find quite confounding. Fortunately she also ensured that the green-eyed monster was kept at bay from her "real" daughter by explaining to me as a very young - and somewhat insecure - child that she "prayed for a daughter just like me".
I was convinced, as so many have been. I remember a telling incident when I was asked at school what my mother did (it was still somewhat of a rarity to have a mother working). I piped up in childlike tones that she was "a passion promoter". Out of the mouths of babes? For there was no doubt that my mother's ability to charm and coerce even the most reluctant (or perhaps wary) was - and still is - legendary. Her power of persuasion ignited by her passion is a force to be reckoned with.
Journalism became my career choice - the world of fashion magazines was a natural fit, given I had been surrounded by style my whole life. And I took off to foreign parts to seek my fortune, while my beloved mother rediscovered her roots and undertook to do something constructive about the plight of the flood of Polynesian women who were pouring into New Zealand to better their lives.
She became the founding president of P.A.C.I.F.I.C.A - a women's organisation that now stretches across both islands, forging friendships that have been the basis of incredible achievements both academic and otherwise, while building the bridges between Pacific and Pakeha cultures. The Pacific Island Youth Leadership programme followed and fostered the education of many a student who has accomplished incredible heights.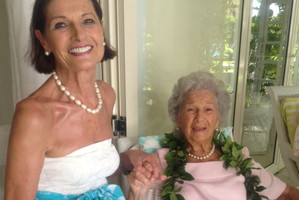 Two terms on the city council saw her tireless spirit form the building blocks for reform particularly in the Pacific community. Her ability to immerse herself in projects and constantly come up with solutions was inspirational. Nothing was insurmountable. And even though I was across many oceans, I was amazed by her sheer sense of purpose and capacity to make things happen.
Despite my years spent overseas, a deep and abiding friendship has only grown - cherished by both of us with constant phone calls that have nurtured our love and admiration. Plus regular trips from one side of the world to the other have only helped nourish an unbreakable bond.
When my father died, her desire to return to the islands proved to be her salvation. Paddy is a peace-maker. She believes that only through this tenet can we provide a world fit for the children who are our future. At the age of 70 she embarked on a whole new life with her resolve to make Polynesia its source, and built a beautiful home in Rarotonga.
She became the first peace ambassador for the Pan Pacific and Southeast Asia Women's Association (PPSEAWA), designing programmes to promote harmony and understanding between nations. She was one of 1000 peace women across the globe nominated for the Nobel Peace Prize.
Her educational curriculums for children of the Pacific based on mime and movement, which teach the virtues through the use of their legends are innovative and uplifting. Her imagination is extraordinary, as her charming Peace Bird stories demonstrate. And her compositions that accompany these programmes are enchanting. Her sheer grit is totally impressive.
And her resolve to tap every force to achieve the end never fails to harness respect and recognition. Last month at the age of 97 she was awarded a Distinguished Fellowship from the University of Auckland's Faculty of Education's School of Critical Studies for her services to Pacific education. A rigorous vetting process admits only a handful. She is the first Pacific woman, first with Samoan heritage and the first non-academic to have achieved the honour.
I can only hope just a small particle of my remarkable mother has rubbed off on me.
As the years have passed, she comments that our roles have reversed. In her twilight times she often calls me "Mummy". And we laugh. But without her example of love, compassion, friendship, wisdom, goodness and a bucketful of real style, there is no way I could have earned that Freudian recognition.


- VIVA