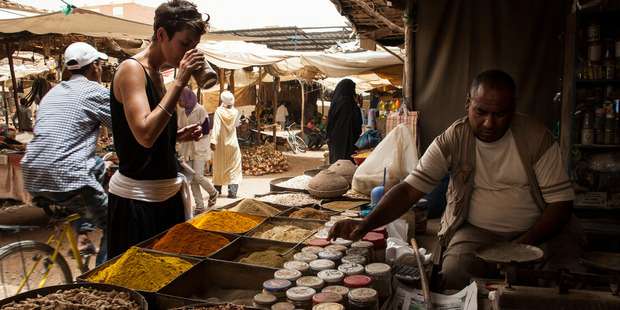 Part travel memoir, part cookbook, part photo essay . . . Colour of Maroc's charm is in its inability to be categorised. It's something that Sophia Palmer, one half of the duo behind the book, admits freely in the introduction.
"If you ask me what Colour of Maroc is about, I will say that it's about delicious traditional yet contemporary Moroccan food, but it's not a cookbook. It's about amazing destinations, but it's not a travel book. It's about the journey itself and the people we met, it's a book about experience."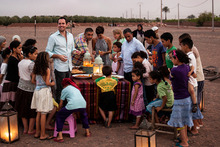 Born in Morocco to a Moroccan father and French mother, the freelance marketing director penned the cookbook with husband Rob Palmer, having hatched the idea during their wedding in Marrakech. Neither had produced a book before, neither was a writer or a chef.
It's not completely farfetched though - Rob was a food photographer with experience in cookbooks, and they had friends, family and acquaintances all over Morocco willing to share recipes.
As Rob explains: "Every Moroccan has an opinion about their culture and cuisine; even the taxi driver will tell you exactly how every traditional dish should be prepared."
Most of the recipes featured are from Sophia's childhood, he says, "from her grandma's famous couscous to the French-inspired almond macaroons from her favourite patisserie in Casablanca".
The book follows the pair (who met when Sophia moved to Bondi Beach) throughout the North African country, accumulating adventures and recipes to be translated into 75 traditional and contemporary dishes.
It was a journey of discovery for Rob, and rediscovery for Sophia, who spent her first 13 years in Morocco before moving to France.
"Most of my earliest memories are not of the final dishes Mum or any of my aunties would cook but more of the process that would precede it," Sophia explains.
"'Aynek mesanek' (your eyes are your measure) was what my mother continually recited to us as she cooked. It's so different from the Western way of cooking, which is based around exact measurements and weights, Mum taught us that it was all about taste and touch.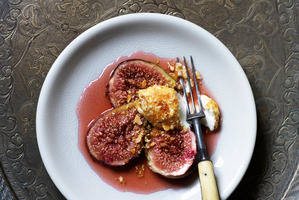 "Food plays such an important role in Moroccan society because it is such a social process. We talk, laugh, argue and gossip in the kitchen and, once the food is prepared, that experience continues throughout the meal, which is why so many Moroccan dishes are served as shared plates placed into the middle of the table for each guest to eat directly from," she explains.
The people and places they encountered form more than a small part of the book, their journey taking them from Marrakech to the seaside town of Essaouira, to the famed Casablanca where Sophia grew up, the northern cities of Fez and Meknes, and into Merzouga in the Saharan desert. Far from being planned perfectly as you might expect, Sophia's family's relaxed nature meant nothing was planned in advance.
"In the end, risky as it was with so much riding on the trip, it was the lack of planning that allowed us to have such a great time. It meant that we had to be spontaneous and take any opportunity presented to us. It also meant that at times we had to fight to get what we needed, but if it all worked out - it just felt so much more rewarding," Rob says.
Although the tales intermingled with the recipes are fascinating, the food is still the star. Rob's beautiful photos entice the reader to create each delicious-sounding offering - a lobster tagine with sweet saffron sauce, slow-roasted lamb shoulder with labna, walnut and pomegranate, a roasted cauliflower salad with saffron and currant dressing, spicy lamb filo triangles with minted yoghurt sauce - each promises to whisk you to the heart of the medina.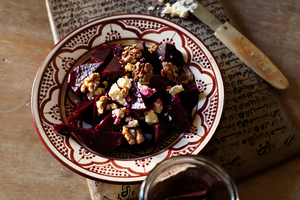 Rob's favourite recipe is the pickled beetroot salad with feta and walnuts, while Sophia's is the traditional harira soup."One of the recipes that really summarises both our cultures is the lamb shank and prune pies - Australia and Morocco mixed together," says Rob, adding that they cook a lot of the food at home, but like to mix in the more contemporary recipes to keep it fresh.
"A lot of people have this perception that Moroccan food is difficult and too multilayered to be cooked in an everyday environment, but in reality many of Morocco's slow-cooked dishes, like tagines, are dead simple: they're really one-pot cooking at its best." he says.
The duo returned to Australia with not only a renewed love for Moroccan food and new life-long friends, but also some valuable life lessons. From appreciating where food comes from - a memorable night in the desert watching their lamb being slaughtered before all the meat was shared amongst the village comes to mind - to slowing down.
"One of our Moroccan friends upon arrival (one hour late) to an evening photo shoot we had organised calmly said to us: 'Moroccans don't have watches, we have time.' It does take a while to get things done over there but there is beauty in that."
Currently freelancing back in Bondi, the pair has entrepreneurial ideas in the works including more travel and more books, plus an idea to develop some culinary and cultural tours to Morocco.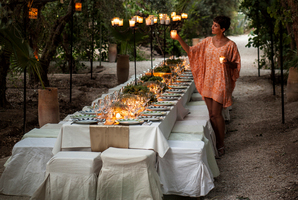 "We're inspired by every country we visit. Even the smallest cultural and social differences are interesting, but one of the best things is simply being away from the daily responsibilities of home life. Once your phone isn't ringing and the bills aren't there to be seen we really find that we do our best work and get creative about new ideas and projects," Rob says.
"We've got a trip planned later this year to Mozambique, Tanzania and then on to Jordan. Hopefully, we'll be able to finalise a few little ideas we've been sitting on."
"We'd love to do another book in Morocco or another foreign country, but there are also lots of good opportunities right here in Australia," he adds.
The pair also sell an argan oil sourced from Morocco on their website, and are working on giving some of their proceeds to charity - once they can get around the slightly-more-difficult-than-expected logistics of donating to the country that has become their second home.


• Colour of Maroc: A celebration of food and life by Rob and Sophia Palmer is $75. (Murdoch Books, distributed by Allen & Unwin.). Read more at colourofmaroc.com.


- VIVA