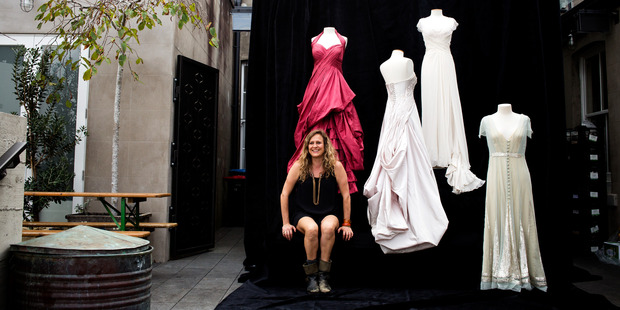 The secret wedding day weapon for many New Zealand brides has long been a straight-talking fashion designer from Dunedin. For the past 15 years, Tanya Carlson has quietly developed herself as the go-to for stylish brides in the know, drawn to her talent and skill as much as her easy-going disposition.
A selection of the designer's most spectacular, one-off pieces will be showcased in Dunedin from Saturday, encompassing work from the last 15 years. Curated by dress historian Dr Jane Malthus, the exhibition, called Not all White, is part of the 15th year anniversary celebrations of iD Dunedin Fashion Week.
Malthus explains she was drawn to the fact that, unlike most bridal designers, Carlson creates personal, one-off wedding dresses as well as designing seasonal fashion collections.
"We wanted to feature the range of choices brides make for their dress now in terms of colour, design, and style," Malthus says. Many of the dresses displayed were crafted for well-known New Zealand women for their big day, including artist Seraphine Pick, cyclist Alison Shanks, media personality Kerre McIvor, designer Tamsin Cooper and TV presenter Sonia Gray.
Malthus also wants the exhibition to show the depth of detail and craftsmanship behind each gown.
"I wanted to show a range of the couture techniques that Tanya is so adept at: drape, and other fabric manipulations, incorporating under-structures to allow dresses to fit and be comfortable, arranging and layering colour by over-dyeing, the clever addition of beading and other embellishments."
• Not all White, March 29 to April 27, Dunedin Public Art Gallery.
- VIVA