Dan Ahwa reports from Paris on the most anticipated show of the season.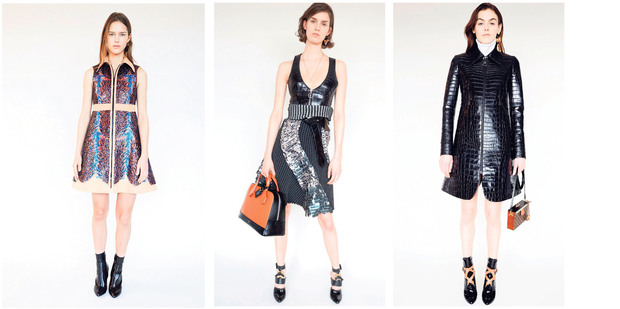 Without disregarding the remarkable 16-year tenure of designer Marc Jacobs at the helm of Louis Vuitton, it has been a while since the luxury brand has had a collection that looked and felt like a modern, French fashion label. So it was refreshing to see Jacobs' successor, Nicolas Ghesquiere, deliver a quietly confident debut last week that gave a nod to the effortless style of a modern-day mademoiselle.
The 42-year-old is one of - if not the most - respected and influential designers in fashion today, with his debut at Louis Vuitton the most anticipated since Raf Simons took over at Christian Dior.
Since his appointment as creative director last November, much has been made about what a designer like Ghesquiere, whose design attitude is all about the trajectory of fashion and moving forward as opposed to looking back, would offer a storied house such as Louis Vuitton. But it is that meeting of heritage and modernity that made Ghesquiere's fall 2014 collection, showcased at the Louvre in Paris, so exciting.
What he had articulated well previously as creative director for Balenciaga was a unique ability to develop fabrics and work with often difficult textiles, from laser cutting to mechanical embroidery techniques.
That experimental and futuristic approach was still present in his collection for Louis Vuitton, but grounded in Louis Vuitton's "savoir faire", the tradition and the craftsmanship that the house is celebrated for. Even the leather goods atelier - who usually only work on the handbags - were involved in creating garments for the collection, a new challenge that presented itself as Ghesquiere's way of bringing back that conversation of innovation within the luxury goods sector.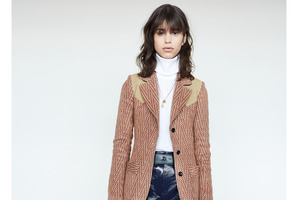 "This initial collection tells a tale of expertise made possible by innovative techniques. It focuses on the highlights and remains open to interpretation," read the collection notes. "Living proof that today's 'timeless' was at one time seen as innovative. In this collection, the timeless is now."
Leather was key to connecting leather goods to ready-to-wear as Ghesquiere utilised it as a trim on tweed tunic dresses and patchwork leather zip front coats, while a jet-black crocodile skin coat had a three-dimensional quality to it.
Metallic embroidered A-line dresses had an iridescent sheen that riffed on Ghesquiere's love of sci-fi references, but with a distinctive whiff of late 70s and early 80s nostalgia. Spiral skirts, on closer inspection, were embroidered with feather panels for a textural effect and worn with a black leather vest.
Louis Vuitton's travel history was referenced through Ghesquiere's updated take on accessories. The classic Louis Vuitton trunk was downsized into box clutch bags called "Petite-Malle", along with the 18ct gold "Petite-Malle" necklaces, highlighting the designer's playful sense of humour.
With a focus on creating a new desire for the Louis Vuitton customer, Ghesquiere's return to fashion was summed up in a personal note he left on each seat at the show. "Words cannot express exactly how I am feeling at this moment. Above all, immense joy at being here, in the knowledge that my stylistic expression is at one with the Louis Vuitton philosophy."


See every look from the show here: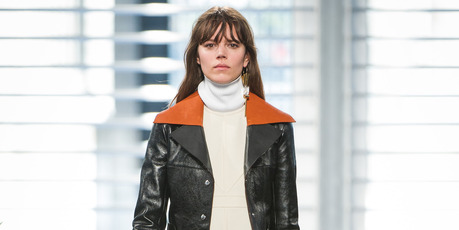 - VIVA