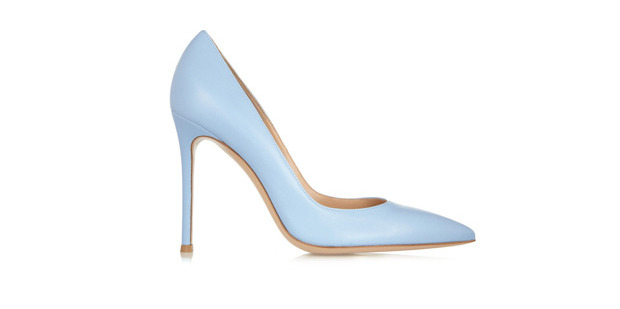 I'm back in heels. Lanvin booties. Navy blue leather. Shiny. Ankle grazers with a side zipper. You'd sell your mother for them. I would, easily.
I love my mother, but if it's her or Lanvin, it's bad news for Mama. The booties were lent to me last week. I knew from the get-go it was one night only. Not that that made any difference. The chemistry between us was powerful and instant. I'd forgotten how it is with shoes as good as these. You put them on for the first time, and you're yourself, except a better version. It's not just that your legs look longer, and your dress feels slinkier, it's that sense you get, suddenly, of complete capability. You know these shoes are going to work for you, and you're going to work better in them.
Society tells me that high heels are a tool of the patriarchy, and yet, putting on a really stellar pair of heels always make me feel liberated. Like I can walk, play, work, dance and talk better when I'm in them. Backwards even, like Ginger.
I'm speaking for myself here, I realise. Not every woman enjoys the high-heel experience.
There are many habitual heelers out there for whom walking is a misery. Yet we go on wearing them. That's the weirdness of gender conditioning. Women's lib happened a while back but, with the exception of ballet dancers and possibly rock stars, you don't see too many men in shoes that restrict their movement. Why is it so different for women? Why do we buy into the lie that looking put-together requires discomfort?
I remember the exact moment I had enough of it. I was in Ireland, running across three lanes of traffic from one side of a bridge to the other. I got up on the kerb when the heel of my boot caught the edge of it, and I went over.
They were my favourite Kate Sylvester boots, high-heeled and studded. I wore them everywhere. Five years later, I can still recall the absolute fury I felt that they wouldn't support me.
Granted, I'd just moved home after 10 years away. I was feeling a bit out of sorts in any case. But for some reason, the fact that my heel had tripped me made me livid.
Apart from one night last month in a pair of Miu Miu stilettos at a party, I haven't worn heels since, not for half a decade.
Until last week, and the advent of the booties. I knew I was in trouble as soon as I pulled up the zip. Five years without heels, and it felt as though I was born to wear them. They pinched a little bit around the ankles. Reader, I liked it.
Heels are sexy, that's what it comes down to, isn't it? They make you feel capable, but they also make you feel frisky. They make you swing your hips, and walk with a wiggle. Not so good for running across three-lane bridges, but good for being a vixen in. And you can always kick them off at the end of the night, unless they're navy blue Lanvin booties, in which case, trust me, you'll have to resist the urge to sleep in them.
- VIVA