The Offal Club shows diners a new way to appreciate meat, writes Claire McCall.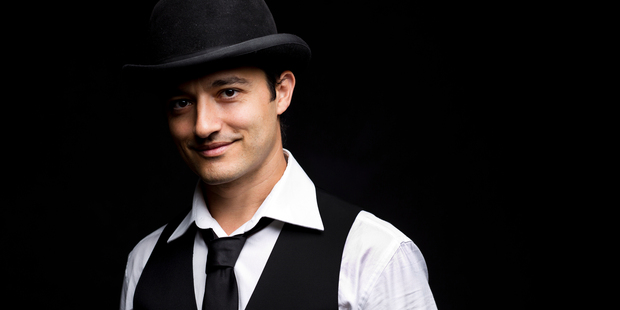 Bowler hats and bunny rabbits usually go together only on a magician's stage. But chef Joao Martins is a culinary conjuror who combines this duo with dazzling effect. The bowler hat is his trademark headwear for when he's in attendance at Offal Club dinners. Dishes served showcase ingredients from organs to the organic, and include wild game (yes, and rabbit).
The Offal Club is Martins' pet project (but no dogs or cats were harmed in the making of this venture). When this stay-at-home father of two doesn't have his hands full taming toddlers, he's dreaming up menus for the regular feasts he hosts to promote the goodness in eating offal. "My objective is to get people together to enjoy a meal and broaden their horizons."
Like his attire, Martins' credentials to assume this role are impeccable. Born in Portugal in the 1970s, his childhood was spent between the family home in Lisbon and weekends in the Alentejo countryside where his aunt lived.
His mother was a keen cook who embraced the lores of time and place including the advice to feed babies mashed pigs' brains because it was so rich in good fats and proteins. Martins and his elder sister thrived on dishes such as rabbit stew (coelho a cacador) and tripe cooked with chickpeas, chorizo and poached cabbage.
On the farm he gained a vivid appreciation of where meat came from. (Author's note: don't read on if you are squeamish.) He looked on as pigs and cows were slaughtered and cut up for cooking. Chickens didn't come wrapped in plastic at the supermarket: their necks were wrung and their feathers plucked.
When their father, a keen hunter, brought home some wild rabbits, the 6- and 7-year-old brother and sister were charged with preparing them for the pot. "We'd put a slit in their backs and peel their skins off.
Then we'd fight for the top part of the rabbit's head because we liked to suck out the brains." Martins admits this sounds gruesome but it was just an everyday part of rural life. "We always ate a lot of offal because there was an ethos of not wasting food."
After school, Martins moved to study graphic design at Camberwell College in London. It was here that he became involved in protesting for students' rights. He participated in the longest college occupation since the 1960s. "I wrote speeches and became one of the figureheads."
The occupation lasted just over two weeks. His college education was cut short. The dean did not appreciate his revolutionary tendencies. That is how he ended up washing pots in a neighbourhood bar; after three months, he was running the restaurant.
An education that began in the farm kitchen was honed in two of London's top eating establishments. First there was Moro, run by Sam and Samantha Clark, two ex-River Cafe employees who specialised in Moorish cuisine.
But his calling was always to offal and when the opportunity arose, Martins headed to St John in Farringdon, a restaurant run by chef Fergus Henderson, the unsurpassed guru of nose-to-tail eating.
Here the dinner menu might include crispy pig's skin and dandelion, or grilled ox heart with chips and ketchup. "It was a fantastic place to work. We learned how to deal with whole pigs and how to prepare and cook every single piece properly."
On immigrating to New Zealand in 2005 with his Kiwi wife Andrea (who works as chef custodian at Government House in Auckland), Martins found little shared enthusiasm for his craft. Safe to say it was a niche market. His theory is that this offal offensive has cultural roots.


See Joao's recipe for Devilled Lamb's Kidneys with Cherry Tomatoes and Radishes here.

When the first Europeans came here in the mid-1800s, they found a land where the farming was good and the fishing so plentiful that they revelled in such abundance. "They travelled here to better themselves. Eating only muscle meat was one way of showing that they had."
So offal became ostracised and anathema to the cultural landscape. "It's something many people feel is 'not right'," explains Martins. "And yet it is so wasteful. Almost a third of the animal is thrown away in offal bins." Not a sustainable viewpoint.
His argument is that since taste is one of our senses, we should explore all its potential. "I always say that if you don't experience the varieties of texture and flavour that eating offal can bring, it's like looking at life in black and white."
If anyone can convince the crowd that offal is a sensory adventure that should be gleefully embarked upon, it's Martins. His wife Andrea is now a willing participant in this mission. "She even tried my mother's lung risotto when we were on holiday in Portugal." Despite her doubts, she pronounced it amazing.
The key to the eating is all in the mind. At The Offal Club feasts, Martins sees diners' culinary convictions change before his very eyes. "It fills my heart with joy when someone who started off so suspicious ends up loving a dish." At the last event held at Dominion Rd restaurant Cazador, one guest made the remark on tasting her tripe, orange and olive salad: "My brain is telling me not to eat it but my tongue is wanting more."
A typical meal may include canapes with rolled pig's head, sliced finely and served with a pickled radish salad, puffed beef tendon with ox heart tartare and black pudding with broad beans and cauliflower puree. Yet do not think of the feasts as some form of testosterone-fuelled macho dare.
Women are finding the offal experience equally rewarding. Some have even signed up to the butchery and cookery classes that Martins runs to complement their newfound hunger for innards and extremities. His advice is to make friends with your local butcher, who will source these niche-market ingredients.
Apart from delectable dalliances, The Offal Club has at its heart one fine, upstanding principle. As Martins points out, "Eating offal is the respectful thing to do to honour an animal that has been killed." We'll doff a gentlemanly bowler hat to that.
• The next Offal Club feast will be held at Coco's Cantina on March 23. For more information, visit theoffalclub.com.


- VIVA