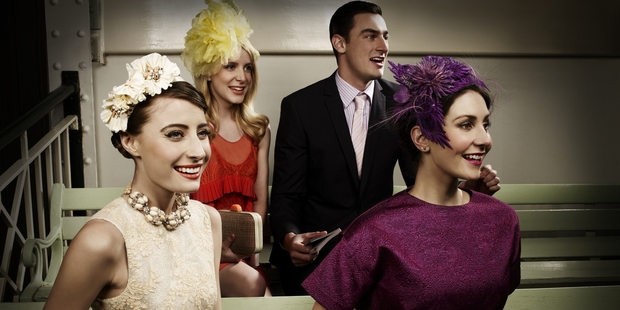 The right hat or headpiece is the make-or-break element of a great raceday outfit and it demands hair to match. For Auckland Cup Week, we asked top Australian stylist Caterina DiBiase how to pull off a winning look.
DiBiase was in New Zealand last month as a judge at the L'Oreal Colour Trophy Awards. A two-time former Australian Hairdresser of the Year, she has also directed hair at Melbourne's Fashion Festival and is on speed-dial for celebrities attending the Melbourne up and other big raceday and fashion occasions.
At Flemington last year, she looked after visiting model Poppy Delevingne whose free-flowing style showed no sign of traditional hat hair. For those choosing a more "dressy" raceday look, DiBiase says choose the hat and outfit first, then ensure hair complements the overall look and has a polished finish.
Her top tip for raceday is to remember it's a fun day. "Make sure whatever you do, make your hair stay in place so that you can forget about it for the rest of the day and enjoy."
How do you decide what style will suit?
It's about you outfit and the hat - so you need to work your hair to complement it. That is the crucial thing. You have to be able to put your hair in a way that works so that the hat stays on, so that you don't see 100 pins and you don't see elastic.
The other key thing is that you have to be able to remove your hat for the functions afterwards. A lot of ladies go to the races all day and then dinner and perhaps an after-party. So you need the ability to remove your hat and have a different look if you want.
You also need to make sure that your hair doesn't overwhelm your whole look. The races are a very tailored, beautiful and manicured look with a nice "edge". So it's about doing something stylish and subtle with a twist that works with your look, without being overwhelming.
A look that I did this season was a modern take on the French roll. We had it very messy and earthy, bringing an old idea into the modern era with a twist. That was probably my favourite look for this season.
At the Melbourne Cup what trends did you notice in terms of how millinery and hair worked together?
Hair fascinators are not as prominent as they used to be. Millinery is still very big, but this year at Melbourne Cup there were a lot of small, more cocktail outfits complemented by more minimalist headpieces, and in turn the hairstyle was more prominent. It was all about a beautiful hairstyle, whether it was a blow-wave or an updo, with just a touch of detail in the hair.
Crowns have also become popular since the royal wedding.
How do styles differ depending on whether women are wearing a hat or a fascinator?
It's probably a 50/50 thing [between hair out or up]. It depends on the face shape of the client and the outfit that she's wearing - whether it leads to the hair being down all over the outfit, or whether it needs to be taken away. For example, is she wearing a collar, or a jacket?
In Melbourne, you never know what the weather's going to do, so the ladies who are real racegoers will have two outfits and hair styles at the ready. With Auckland's similar changeable climate you need to be flexible until the day. If it's raining you might want your hair to be neat, tidy and away from your face. It's important to be able to adapt to the weather.
The other thing to remember is that you're outside. Yes, you might be in a marquee, but you're still out and about. You're walking around the marquees and you're generally there for six hours. It's a long time out in the elements.
It's a bit like doing wedding hair. You have to wear it all day. The hair has to work to balance you out as well. To take your height and figure into consideration.
You look after celebrities for race days. How willing are they to try something different?
They don't mind making a statement but they'll want to look slick and make sure it suits their face shape. The key thing is that it needs to stay like that from 9am until late, and their days are usually longer than everyone else's as they've got to deal with media in the morning pre-races, and then generally at the after-parties.
If I'm at the races and I see someone whose hair I've done needs a touch up, I might come up and say 'let me quickly fix that for you in the ladies'. Some of them are more than happy for me to walk up to them and ask if they'd like a touch-up, but then some of them aren't as they don't want to appear pedantic in the public eye. It depends on the person.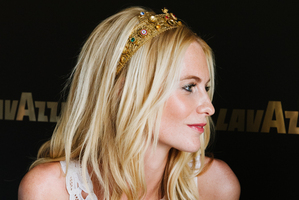 Poppy Delevingne's flowing, long style suited her princess dress, but was its informality typical of where race day hair is heading?
The races are and will always be a classy and elegant affair. It's about a woman being a woman, and a man being a man. A woman can wear a hat in the day, she can wear gloves, she can wear her hair up or down, whatever she wants to suit her overall look.
Poppy's look was about her outfit. She had a full, flowing skirt, a beautiful mane of hair and she had that Dolce & Gabbana crown. We worked that piece into her hair to make sure she didn't look too queen-like - we had to make the old crown image look modern. So styling her hair in a beautiful, soft, tousled look was key. She needed to look young.
Although it looked like a simple style I had to really prepare the hair so I built up the texture to make it hold for her. Crowns aren't easy to keep on. And that is always the big
challenge at the races: How do you attach your headpiece or hat so that it doesn't hurt and so that it's going to stay put in the wind, while looking good?
To keep the crown and her hair in place all day I spent a good two hours styling it. I blow-waved it, then I curled it and then I had to set it with the crown attached. Then she had her makeup done and I had to rework it after that.
What about for Fashions in the Field and the more established racing set?
Fashions in the Field, especially at the Melbourne Cup, has a very big prize - I think it's worth about $400,000. It has a brief, there are criteria that you have to meet. Your hairstyle has to be appropriate for the weather and it has to be appropriate for your outfit.
Often people tend to play it safe with their hair when there's such a big prize pool at stake. The girl that won it this year chose her own outfit so it's not that it can't be won by just anyone. It's just about attention to detail and balance - I can't stress balance enough - and her hair was done very nicely.
It's about detail from head to toe. It's not about being "matchy-matchy" but what's fashionable and what looks right and she got it right. Your entry also needs to not be a direct copy of what won last year, because the judges know.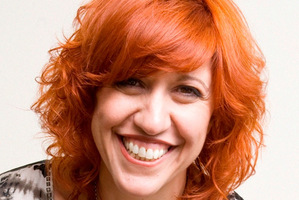 What would you like to see less of?
The chignon. It is a fail-safe but I think it is done to death. The bun has become super-popular now - I think since Black Swan and when Louis Vuitton and Lanvin did topknots, but I have seen too much of it now.
Maybe use the same concept, but do it with a twist. It's about getting the hair neat and into a shape so that it can offset your hat. Your hat will often be a square or round or asymmetrical shape, so quite often a bun, a roll or a knot can give good balance to the overall head shape and be flattering.
I'd like to see more people experimenting. A lot of girls are happy with their hair when they wear it down, but when they put their fascinator on they feel a bit out of their comfort zone so can tend to play it too safe with the hairstyle - just out, undone with their headpiece clipped in and that's not always a good look.
You can easily spot the person who wears their hair the same as always and they've just plonked a hat on.
I also hate seeing skanky skinny ponytails that haven't been manicured. Hate it with a passion. I'm just like, can't you please just put a bit of attention to detail in it? There's nothing wrong with a ponytail, it just has to be styled. Don't just pull it back in that hair tie from your wrist without it being finished. Cover the hair tie. Have attention to detail.
The thing that amazes me is that some women will spend $500 on a hat, $1000 on a dress, shoes, bag, they've tanned themselves, done their nails, had their makeup done, and then there's no detail on the hair.
Also, if you haven't washed your hair, pulling it back into a ponytail does not hide it. Please wash it. I can see it, it looks worse.
It's a different type of hairdressing when it comes to the races and a lot of people get it wrong.
What would you like to see more of?
I'd love for more people to pay more attention to their hair so they have that final polish. If you want your hair to be straight, iron it so that it's immaculate and looks healthy and shiny. If you've got naturally curly hair maybe curl it a little bit more so that when you pull it back it looks more "done".
Tease the crown up a little bit so that it's got more texture, giving your updo a modern twist - it will also give your hair a better shape rather than following your natural head shape. Maybe wear your hair to one side if you usually pull it back to the middle.
Any advice on how raceday newcomers approach their hair?
Don't over-style it. Keep it beautiful. The other thing I always say to my clients is that your style needs to be comfortable and not too tight - otherwise you'll get a migraine.
Always have a mini can of hairspray, some dry shampoo and, of course, bobby pins. (I recommend L'Oreal Professionnel TECNI.ART super dust to lift your hair and freshen it up throughout the day). These things won't take up much room or weight in your bag but they will save you. Also - bandaids and Panadol.
- VIVA