Nici Wickes goes in search of New York City flavours at home.
Think of New York City eating and you can't help but imagine old-school delis serving pastrami sandwiches and pickles, bagel shops brimming with lox, carts selling hot dogs spilling mustard and bright green relish, diners peddling burgers and grits with gravy, restaurants specialising in meatballs and bars serving wings - buffalo wings that is - and milkshakes laced with booze. Sound familiar? With the wave of American-influenced eateries popping up in Auckland, it's easy to have your own Big Apple dining experience without even leaving home. Let's go . . .


HOT DOGS
The key to a decent dog is a soft-as bread bun so that each bite doesn't shoot the fillings out the end, standout sausages, and plenty of sauces. These ones get it right.
Imperial Lane
The hot dog stand in the cute, cobble-stoned Imperial Lane nails it with soft Vienna bread rolls and delectable fillings inspired by the flavours of Vietnam, Morocco and Spain.
Open from 5pm Mon-Sat, 7 Fort Lane, City, ph (09) 929 2703. theimperiallane.co.nz.

Food Truck Garage
For the health-conscious, head to Food Truck Garage for their puppy dogs - soft, spelt flour buns, free-range chicken, leek and spinach sausage with tomato salsa, savoy cabbage and rocket. Delicious!
City Works Depot, 90 Wellesley St West, City, ph (09) 973 2305. foodtruckgarage.co.nz.
Dogmatic
Situated on a busy corner by Britomart Train Station, this joint gets its sausages from award-winning Ellerslie Meats and they ain't half bad. Try the chilli dog - chunky beef sausage, jalapeno relish and a decent dollop of chilli beef and beans.
2 Queen St, City, ph (09) 973 7067.


DINERS & DELIS
All-day diners and delis are an institution in New York, providing a meeting place, a kitchen and a dining room for locals to meet up in neighbourhoods across the city. And now we have some of our own.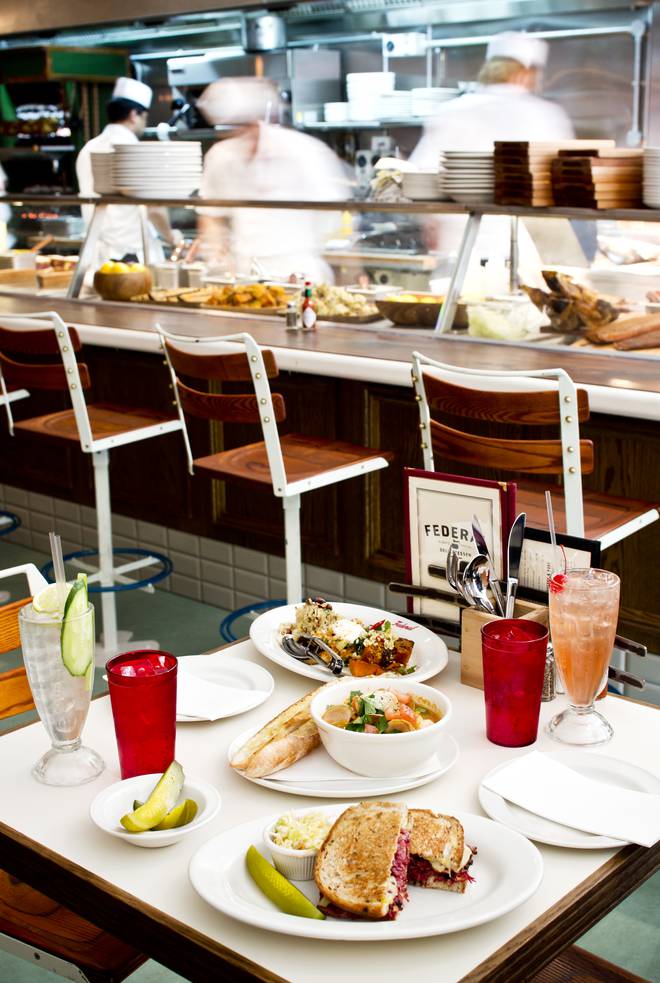 Federal Delicatessen
Adjacent to the ever-popular Depot, Al Brown's Federal Delicatessen ("The Fed") will transport you to another time and place altogether. Jars of pickles and mustard line the shelves, back-lit signs in bold black type proclaim "Genuine Pastrami", "Pie by the Slice" and "Sour Pickles", waitresses wearing cute matching pastel uniforms bustle about, and the team manning the deli counter is straight up in neat white hats. We're in 1950s New York territory for sure, except the food is better! For breakfast, there's latkes, bagels (Best Ugly of course), hashes, mashes and griddle cakes, as well as the bottomless cup of Joe (that's filtered coffee). Once 11:30am rolls around the menu opens up to include sandwiches, bagels, kettle soups, meats, rotisserie chicken and more. It's brilliant.
84 Federal St, City, ph (09) 363 7184.
.
Late Night Diner
Diners don't come better than this. Head to Ponsonby Rd after 5pm on any day to sit at the counter or a booth at Late Night Diner and order a serve of battered pickles with spicy mayo, a well-built burger or huge layered grilled Reuben sandwich on rye and you won't be sorry. There are also hard shakes - a vanilla thickshake laced with cigar-infused bourbon or a chocolate shake spiked with rum and Grand Marnier. Hello happiness.
152 Ponsonby Rd, Ponsonby, ph (09) 361 2320. latenightdiner.co.nz.
Al's Deli
A small sign on City Rd points to this new deli (owned by Aleks Lazic, aka Al) which takes up the corner site of City Rd and Queen St. Look up and you'll find it. It's more Canadian than NYC but with buffalo wings served with genuine Frank's hot sauce and cooling ranch dressing, we think it qualifies.
2 City Rd, City, ph (09) 373 2961. alsdeli.co.nz.


MEATBALL MANIA
Meatballs are moving in on our city at an alarming rate - expect to see more meatball-based eateries setting up shop this year. This comfort food successfully finds a home in the smart and casual eats departments.
Baduzzi
I thought crayfish and meatballs surely belonged in different worlds. Enter Baduzzi, the smart dining room and kitchen owned by the team from The Grove. "Food of the People" say the signs outside this North Wharf eatery, and their list of polpette features crayfish meatballs that are soft, sweet, musky and deliriously delicious. They also have wagyu meatballs, which drip with tradition in a hearty onion gravy.
Cnr Jellicoe St, and Fish Lane, North Wharf, ph (09) 309 9339. baduzzi.co.nz.
Bedford Soda & Liquor
Named after one of the hippest streets in one of the coolest neighbourhoods in NYC - Bedford St in Williamsburg - Bedford Soda & Liquor is a bar with a drinks menu packed full of American and retro favourites . . . but they serve meatballs, too. There are pork, beef, chicken or vegetarian, served on their own or on mash, polenta, spaghetti, risotto, or in sliders, or on bigger sliders called subs, with sauces or without, with a salad or fries. Get in there.
Ponsonby Central, 136 Ponsonby Rd, ph (09) 378 7362.
.

PIZZA
We couldn't talk about New York City eats without mentioning perhaps their greatest export of all - pizza. The debate rages over what makes "the perfect NY-style pizza" and with all the options in our city, from gourmet to downright terrible, it's easy to get lost.
I ascribe to the claim that NY-style pizza was designed, with its thin base, crisp middle and soft, puffed-up, chewy crust, to be ideal for cab drivers, travellers and other busy city types to fold and hold, making for a no-fuss snack. To this end, Sal's Authentic New York Pizza gets the tick.
Available by the slice, floppy and soft but never soggy, at six locations around Auckland, Sal's does NYC proud. Grab a slice from their latest pizza joint in Jellicoe St, in Wynyard Quarter, and imagine yourself in a movie about the mob.
12 Jellicoe St, Wynyard Quarter, ph (09) 368 7257. sals.co.nz.


- VIVA