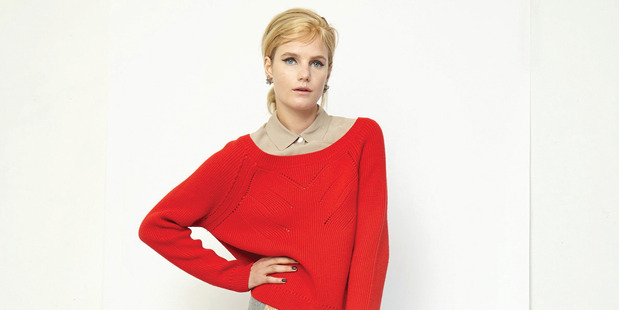 There's a jumper out there with my name on it. Literally. Well, at least in a look book caption.
Janetta jumper, it said in black and white, so I duly found myself trying on a bright red woolly at Kate Sylvester's winter fashion preview.
Now I'm not claiming muse status, far be it, and I'm not sure I'll be doing Kate Sylvester that much of a favour being a walking billboard for the Janetta jumper, but who could resist? I admit to a wee thrill and a bigger giggle when I spotted "my" jumper on the range list late last year.
Finally last week I got to try the thing on. Then, unsurprisingly, I put my name down to buy it when the non-sample size turns up in store in April. As this last sentence shows, I'm hardly an "it" girl wandering around town draped in designer goodies.
No disrespect to Kate but, with me inside, the Janetta jumper just isn't going to have the same covetable status as the Kelly or the Birkin bag.
So what was she thinking, I wondered?
When my uncle had dairy cows many moons ago - in the days when herds weren't just faceless udders but sweet Jerseys - each season he would use a different initial to start the name of all the new girls.
Some years were much trickier than others. I figure Kate must have been having one of those dry seasons.
Over the years, she has used up a lot of stellar names; often her garments carry literary or pop culture references based on the inspiration for the collection. Last season Marilyn Monroe and her men lent their names to the range.
One of my favourite line-ups dates back a decade or so when she based a collection on the Mitfords. I still have a tweed jacket that may or may not have been called the Nancy.
This winter's Two Friends collection is the imagined story of two female best friends in New York more than 50 years ago, when women from the Beat Generation were defying social convention and revelling in their new-found freedom.
Sylvester enjoys playing with convention herself, and her updated take on the time is a mix of soft tailoring and quirky detailing. Each garment has a name, among them Penelope, Suzie, Hebe, Francis, Portia, Willa and ... Janetta.
In between times, I've spotted her using the names of friends, VIP clients and even their children, but definitely without any sign of systematic suck-up.
New Zealand's answer to Anna Wintour observed, "She hasn't named anything after me." Anna deigned to add that mine was a great namesake choice because "you're such a jumper girl".
That got me a bit worried - I've always seen myself more as a jacket person - but what do I know. Except that I haven't worn a thick wool jumper in ages, much less a red one.
The funny thing is the moment I put it on, I decided it was time to get back into red.
Next I tried on a scarlet shirt dress with a sort of spirograph pattern on the skirt. If it had been a few inches longer I can imagine Kate from Charlie's Angels would have snapped it up. After that I wandered across Britomart to where Juliette Hogan was also holding a winter preview of her normally muted, mannered designs.
This season the addition of red to her palette had me weighing up a raspberry shirt and a burgundy dress.
As a child I had a favourite cherry-coloured V-neck cardigan, but once I discovered actual wine I figured the cheek flush made my fair skin and red clothes not such a great match. Wearing my beauty editor hat, I should say it is the invention of CC creams and better foundations that mean I now feel confident reconsidering wearing red.
Or maybe it's because I drink less. Or possibly it's all ego-driven - something to do with a red jumper.
At the risk of coming across as a total tosser - and needy with it - I asked Kate where she got "my" name from, and if we should read anything into the names she attaches to each item.


Many of the garment names you use have literary or film references related to the inspiration of particular collections (such as Marilyn Monroe last season), but when you choose other names, where do they come from?
A baby names book! I just trawl through it looking for names that suit the vibe. In this case, bohemian artistic types living in New York in the 50s.


Does the look of the garment tend to style-match the way you see the person whose name it carries, or is it more serendipitous?
Yes, I definitely choose the name to match the character of the garment.


Do people whose names are on your garments tend to buy those particular items? (Or dare to tell you they wished something else was "their" dress?
Not very often! People are flattered, but in the end we buy clothes because we are in love with the garment, not its name.


Have you ever had to disillusion someone that "their" dress had nothing to do with them?
No. If I know somebody whose name I want to use then their personality will always colour the garment match. I doubt I'd ever call a very sexy sequin gown Janetta (I called it Anouk after the sexy French actress).
I chose to name a practical, intellectual jumper Janetta. A jumper that will look after you because I happen to know a Janetta just like that!


Thanks Kate, I'm flattered. I'm definitely not the sexy Anouk type and while I'm not sure I'm terribly practical I do love clever clothes that combine comfort and craft.


What do you think - would you buy something that was named after you?