Rebecca Gonsalves meets influential designer Yohji Yamamoto who, at 70, remains devoted to fashion innovation.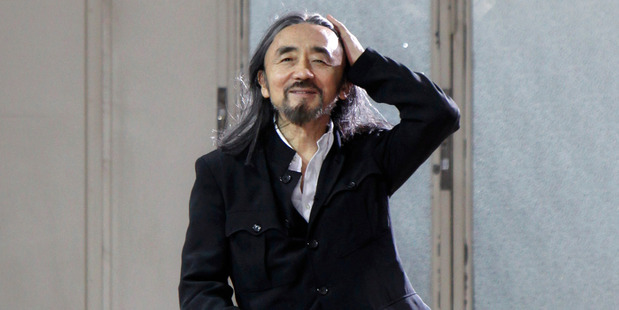 Yohji Yamamoto has always done things differently - from ditching his law degree to being the first big name to marry haute couture with sportswear. Now aged 70, the masterful Japanese designer shows no signs of taking a back seat in his fashion empire.
"I started hating perfume," confides Yamamoto when we meet in London. Considering he is in town to fete the re-issue of his collection of fragrances first launched in the 90s, this seems like a contradiction in terms. But, as Yamamoto has long made clear, where he is concerned nothing is as simple as it first seems.
The Japanese designer, who may hate the term "avant-garde" but certainly not the innovation at its heart, has spent more than 35 years leading the industry from the front.
The story of Yamamoto's early days is well-documented: he was born in the Shinjuku area of Tokyo in 1943, to a seamstress mother - a war widow.
"I was born in the ruin," he says in the 2011 documentary film Yohji Yamamoto: This Is My Dream.
"I had no memory about Japanese culture because those things were all destroyed. So maybe this is my root, the ruined Tokyo."
After completing a law degree in 1966, he decided he didn't want to be a lawyer, and instead offered to help his busy mother with her dressmaking. She suggested, somewhat angrily, that he should attend dressmaking school.
Yamamoto says that it wasn't until midway through his course, at Bunka Fashion College, that he was actually made aware of the business of fashion design.
In 1972, after a period working in his mother's shop, Yamamoto started his own womenswear label, Y's, in Tokyo. After five years, he presented the brand as a ready-to-wear collection in Tokyo before being invited to show an eponymous line in Paris for the first time in 1981.
That collection set the fashion world on edge - Yamamoto's designs were called the "crow look" and "Hiroshima chic" by press aghast at the oversized black garments that were such a stark contrast to the fashion of the time.
They soon had to take Yamamoto's proposal seriously, however; fashion folkore attests that so many buyers rushed to his office to see the collection - and crucially place orders - that the building's elevator broke.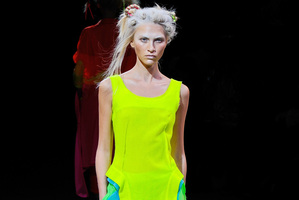 It seems elevators in Paris are a contentious issue for the designer. He tells me: "Soon after coming to Paris, one day I was in the elevator surrounded by four or five women.
They were all wearing strong perfume and each scent was different. The mixture of strong scents was almost killing me in that elevator."
And that's how the designer started hating perfume. That unpleasant experience of olfactory overload stayed with Yamamoto until he was approached to launch his own perfume in the 90s in conjunction with Jean Patou.
"I decided that, okay, I'm going to create a very strong scent which can kill a boy!"
More recently, Yamamoto has worked with Olivier Pescheux - a celebrated "nose" responsible for 1 Million by Paco Rabanne, considered the most successful men's fragrance of all time with 23 million bottles sold in five years - to painstakingly recreate those scents that were lost when the initial licence expired. The pair have also created a completely original scent for good measure.
In contrast to the classics, and cloying celebrity endorsements that mostly make up today's competition, the fragrances are pure Yamamoto. That is, minimal, chic yet utterly affecting and causing something of a stampede. Selfridges reportedly sold out the first week the bottles were on the shelves.
"Every woman uses perfume too much," says the designer. "Japanese people don't smell; they use the scent on the kimono but they don't put it on the body - this tradition is still there. So scent is a memory - it stays on the chair after she [leaves]. We Japanese have a tendency to enjoy the emotion of missing, enjoying the memory [more than the event]."
In 2011, the designer celebrated the first three decades of the Yohji Yamamoto label with a retrospective at the Victoria & Albert Museum in London.
"With my eyes turned to the past, I walk backwards into the future," is how he explained his approach at the time.
But in London he tells me: "I hate to look back; I'm always looking forward to what's next. What can I do next?"
This practice would explain why Yamamoto has been responsible for so many firsts within the industry - he was one of the first designers to cross the divide between high fashion and sportswear with his collaboration with adidas, Y-3, which has been a great success for over a decade.
"When I started with adidas for Y-3 it was very simple. At that moment, 11 years ago, people started to call me 'maestro of fashion' and 'king of cut'. I felt that I came too far from the street so I wanted to [go] back to it.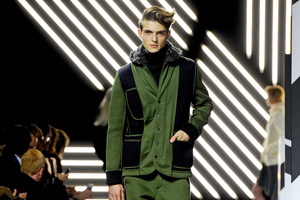 There I found sneakers jogging all over the world, so suddenly I wanted to work with sneakers as a way of getting back to the street. I made a phone call from my side to adidas: 'Why don't you collaborate?' and they said 'yes' at once. We started so-called sport couture."
He is also responsible for setting the fashion agenda alongside his compatriots Issey Miyake and Rei Kawakubo of Comme des Garcons, but he prefers not to dwell on his past successes.
"Right after I finish the fashion show, I forget everything and go forward to the next thing," he says of his survival technique. "Sometimes I get reports from my sales team: 'Mr Yamamoto, this is very strong. Last month we sold this amount'. But I don't know what's going on in the shop, or the market. In that way I forget. If I hold on to the past I can't go forward.
"[For spring/summer], especially, I wanted to announce to people that I don't want to show old Yohji, I don't want to show something deja vu. So the title was 'Meaningless Excitement'. I used strong neon colours, making a contrast with black. It was very difficult, but at the same time, very exciting to create."
Yamamoto turned 70 last year but has shown no interest in retiring from the multiple labels, collaborations and special projects that make up his enviable career.
He has, however, noticed radical changes in the industry that are far more important than simply which colour is la mode (for Yamamoto, at least, nine times out of 10 the answer is black). "In the 70s and 80s, we had very strong critics of fashion who could criticise because they had knowledge. But recently? We don't have that anymore - in magazines, fashion has become a money game."
It is true that the might of advertisers has de-fanged many a fashion critic, as magazine budgets have been slashed and burned in the wake of the recession.
"I'm not designing for journalists," says Yamamoto, although there is at least one notable exception to that rule: "Suzy Menkes' opinion is still important, because she doesn't lie and she can never be bought."
The designer finds the response of customers and buyers more relevant - "Especially buyers: they don't lie because they have to [make money to] eat, by buying clothing [that will sell]".
In 2009, Yamamoto filed for bankruptcy with debts of ¥6 billion, but was rescued by a Japanese private-equity fund, Integral Group. It backed a rehabilitation effort which, under Japan's Civil Rehabilitation Law, meant the business could continue to operate. At the time, Yamamoto told industry newspaper Women's Wear Daily that problems arose in part because he "left too much to others".
Interesting, then, that he still thinks that the money side of the industry is "not my business".
For many designers, though, their work is everyone's business. There has been a spate of highly-publicised investments in young designers over the past year: LVMH has bought stakes in JW Anderson and Nicholas Kirkwood, Kering (formerly PPR) has invested in Christopher Kane and Altuzarra.
Yamamoto deems such purchases "painful".
"They are pushed to do something toward backers' favourites. They can't create their own favourite, or their own emotional creation."
It is not only designers of luxury fashion that Yamamoto sees as cut off from the emotion of fashion - fast fashion brands are subject to his ire, too.
"The people in the poor towns of Bangladesh or Vietnam, they don't wear fashion so they don't know what they are making. So, naturally, they cannot put their spirit in the clothing, so it comes out like shit."


- VIVA