Each Thursday Eleanor Ozich of Petite Kitchen will share her thoughts on healthy eating, with recipes and more.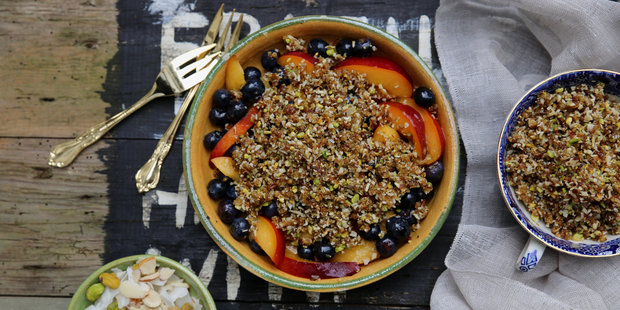 This simple summer dessert recipe is for a raw pistachio and almond coconut crumble, with juicy nectarine slices, blueberries, lemon juice and a touch of cinnamon.
What I love about this gluten- and dairy-free, plant-based recipe is that it is ridiculously easy to throw together and ready to devour in less than 15 minutes.
Serve with a dollop of whipped cream or yoghurt if you desire.


RAW PISTACHIO & ALMOND COCONUT CRUMBLE
Serves 4
For the fruit filling:
• 4 ripe nectarines, sliced into thin wedges
• 2 punnets fresh blueberries
• 2 Tbsp honey, maple or brown rice syrup
• Juice of half a lemon
• 1 tsp cinnamon
For the crumble topping:
• &frac12 cup medjool dates, pitted
• &frac14 cup almonds
• &frac14 cup pistachios
• &frac12 cup shredded coconut
• 1 Tbsp virgin coconut oil
To prepare the filling, put the nectarines, blueberries, syrup, lemon juice and cinnamon in a large mixing bowl. Toss until just combined, then transfer to a serving dish.
For the topping, add the dates, almonds, pistachios and coconut to a food processor. Blend for 2-3 minutes until the mixture resembles dense crumbs. Add the coconut oil and process for 20 seconds or so, until the mixture starts to stick together.
Scatter the crumble evenly over the fruit filling and serve.
*gluten free
*dairy free
*refined sugar free