Jim McCulloch's view of the world changes in the hands of Dr Nick Mantell.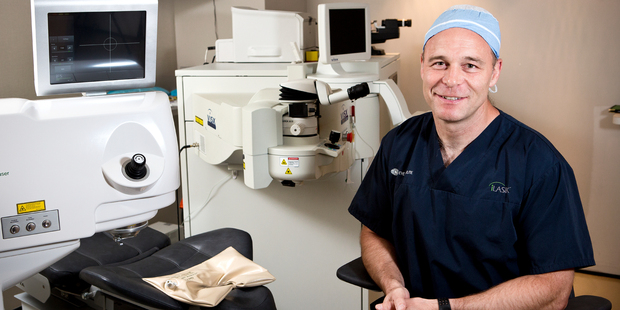 It can, say certain spiritual gurus, take a lifetime to change how you view the world; if you are a patient of Dr Nick Mantell, it can take mere minutes.
Mantell is an ophthalmic surgeon (say that after a few drinks) who specialises in laser vision correction and refractive cataracts.
Now, I had heard of laser eye surgery and its ability to alter the shape of the cornea and provide a permanent fix for troubled eyesight. Indeed, I had met a few people who said it had changed their lives, but I was a little reticent. First, it doesn't come cheap. Second, "surgery" sounded potentially painful and usually comes with days, if not weeks, of recovery.
I first discovered I was shortsighted nearly 20 years ago and every day since then have dealt with the "rituals" that come with wearing glasses or contact lenses.
You know: losing your glasses, finding your glasses, looking for your glasses, having other people help you look for your glasses ...
leaving them behind in restaurants, on trains, buses, planes ... losing your glasses on a big night out, sitting on them, scratching them, wearing them underneath sunglasses (not cool), having them splattered with rain or fogged up, get sweaty, or just be plain annoying when playing sport, or when you don't have them on you and everyone else is looking at the dolphins on the horizon or the shooting stars; swimming blind in the ocean, or having to change contact lenses again and again, cluttering up the bathroom bench with the accompanying paraphernalia, or grappling with grit behind your contacts.
So much time and energy spent over the past 20 years. I look back now and think: Why didn't I have laser surgery earlier?
Indeed, it was when my eyes started to swell while wearing contact lenses that enough became enough.
The Eye Institute in Remuera is the only place in New Zealand which has the very latest iLasik which, after some research on their website, I found was the most advanced of its kind anywhere in the world and is the surgery used by Nasa and the US military. This appealed to my inner Mission Impossible fantasies.
My first meeting with Mantell and his team is for a series of simple tests to ensure I am suitable for the operation and to hear from Mantell exactly what the procedure involves:
"During the operation a flap in the cornea is created and the laser vision correction takes place deep within the cornea as opposed to on the surface which is how it was done originally. This allows for a more advanced result and can treat a wider range of problems.
"In the early days of Lasik, the corneal flap was created using a blade called a microkeratome. Nowadays, most clinics, including Eye Institute, use another laser called a femtosecond laser to create the corneal flap.
The use of a second laser instead of a blade gives patients much clearer vision, particularly at night, and reduces complications, making laser eye surgery safer than ever."
Mantell, who trained in ophthalmology and worked in prestigious eye clinics in London, Manchester and Melbourne before setting up back in New Zealand, has restored the sight of more than 8500 patients and - what finally sold me - has had Lasik eye surgery himself.
Reassured, I book in to have the op on a Friday evening. This is perfect timing, not just because it has been a busy work week, but because most of the healing takes places in the first 6-8 hours, so sleeping is the best thing to be doing.
As I live out of town I book a hotel for the night, knowing I will need to go back the next morning for a check-up.
In the cool dark rooms of the Eye Institute, an anaesthetic is dropped into my eyes to numb them, and then to stop me blinking, a clamp holds my eyes open. I am awake throughout the whole operation and Mantell quietly reassures me and explains, step by step, what is about to happen and what sensations I will feel.
There are no sudden moves or surprises. It is simple, pain-free and, despite an intense flashing light coming towards me, I can't feel a thing. I feel like I am in a sci-fi movie watching an intense light show.
In the space of 20 minutes it's all over and I am led to a reclining chair where I lie with my eyes closed as the nurse kits me out with a take-home care pack consisting of eyedrops and plastic eye protectors which I must wear while I sleep for the first night, so I don't accidentally rub my eyes.
I am driven to the hotel and - feeling like a rock star wearing my sunglasses at night - I check in, order room service and spend the night in a darkened suite.
The next morning my eyes feel a little scratchy but I can see clearly, in fact, the view out of the window and across the inner harbour is spectacular.
I head back to the Eye Institute and I am given the all-clear by Mantell. As the weekend unfolds, I marvel at my improved eyesight and the freedom of not having to worry about my glasses.
On Monday my partner and I set off on holiday and as we head down State Highway 1 late at night, I marvel at my night vision.
On the Taupo to Napier road, I am over-whelmed by the views - it is like seeing the countryside for the first time. The clarity makes it better than 20/20 vision. My vision is so sharp that my partner begins to call me the Bionic Man.
As a serious golfer with a low handicap, the proof for me is when I hit the course at Cape Kidnappers. Playing golf wearing glasses or contact lenses is always difficult. But now the clarity with which I can see undulations on the greens makes it easier for me to see the line of my putts. I have a brilliant day on the course.
Now, I can't imagine life without perfect eyesight. Everything feels clearer and brighter and, truth be told, mentally it makes me feel happier as I can relish the smallest details.
The cost of this op could have gone towards upgrading the car, but it would need upgrading again in a few years' time. Instead, this investment should last me a lifetime.
• Contact Dr Nick Mantell at the Eye Institute, 125 Remuera Rd, Remuera, ph 0800 33 2020 or eyeinstitute.co.nz


- VIVA