Viva recipe editor Angela Casley creates the menu for a delicious Christmas dinner.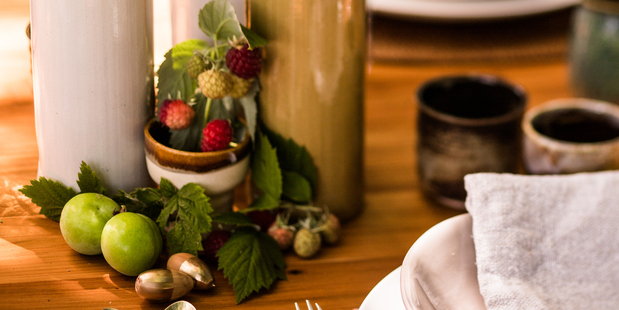 At Christmas Day dinner, the best thing of all is that everyone in the family can do their bit. This makes the festive feast easier for everyone and guarantees lots of laughter in the kitchen.
Sweet scallops wrapped in salty bacon and cooked briefly is an easy, melt-in-the-mouth nibble to whet the appetite before dinner. Serve these with a delicious dipping sauce made with just two ingredients - wasabi and a good quality aioli.
Now for the centrepiece: the turkey. Soak it in brine for 12-18 hours beforehand, this will help to keep it moist during cooking. (A clean bucket will do the job just fine.)
Dates are enjoying a renaissance at the moment so I have used these, along with macadamia nuts, to create a truly divine stuffing.
It is a real treat to eat turkey at Christmas. We generally don't eat it during the rest of the year so relish this opportunity. Don't forget cranberry sauce and gravy - a must for the turkey.
Don't spend the whole day in the kitchen - prepare the turkey in the morning and instead of hot last-minute vegetables, serve it with a new potato salad and roast vegetable salad. Perhaps add some haloumi and fresh herbs.
To break with the traditional Christmas pud, serve a summer pudding - colourful, fruity and light ­- with a hint of brandy. More importantly, it can be made the day before and revealed in the few last minutes with a garnish of colourful fresh berries.
Serve with the extra juice from the berries and mascarpone or whipped cream. Merry Christmas!


Recipes:
• Scallops wrapped in bacon
• Date and macadamia nut roast turkey
• Summer pudding


- VIVA