As summer edges ever closer, Janetta Mackay warns its time to up the effort on protecting your skin.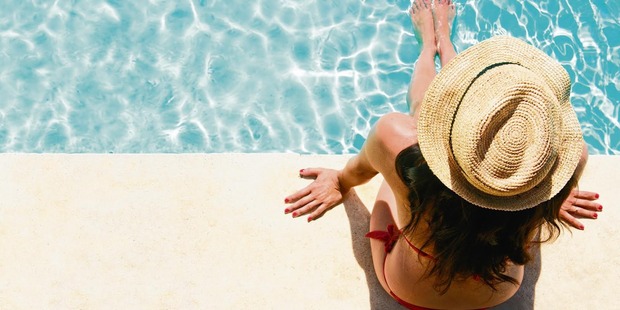 It's that time of year again when occasional smatterings of sunscreen need to be replaced with serious slathering. Protecting your skin should be a year-round habit, but for many of us it is only when we are outdoors for extended periods in warmer weather that we really step up the effort.
Start now, if you haven't already, and your skin will love you for it. There are skincare surveys out there that show it is brown spots - mostly caused by sun damage - that increase the perception of ageing ahead of having wrinkles.
An even skin-tone is a signifier of a healthier, more youthful look, so guarding against accelerated mottling is a good idea. The beauty industry is quick to push pigmentation-busting skincare and laser resurfacing, but the reality is, deep-seated damage is difficult to shift so avoidance is your best investment.
The best way to do this is to take shelter from high sun and wear sunscreen if you are out in it. Cloudy days also allow damaging rays to penetrate and reflected light amplifies the effect, so around water (and snow) extra care is required.
If you are swimming your sunscreen will need more frequent reapplication than the usually recommended every two hours and you should look also for water-resistant formulas.
Sun protection also helps guard against cancers, of course, so it should be a no-brainer to use it. Most people have got that message, but not all are using their sunscreens correctly. They are generally under-applied and not reapplied frequently enough.
That is one reason I am a fan of higher protection sunscreens, considering SPF30 a minimum for my face.
Don't think a tinted moisturiser, BB cream or foundation labelled with this level of sunscreen protection factor will give as much coverage as an actual sunscreen, it will not. Sure, it should contain an SPF30+ ingredient, but it will not be in the same amount or usually applied as thickly as when it is in a designated sunscreen.
Though advocates of lower rated SPFs - which often contain fewer chemical ingredients and may be less gunky - are quick to point out that they give more than 90 per cent protection, that still leaves a chunk of potentially damaging UVA and UVB rays that aren't being dealt to.
Much is being made of late of the natural sunscreening properties of plant-based ingredients. This is an area of developing interest and research, but the fact remains that higher-rated sunscreens can only be achieved by adding physical blocks such as zinc, with chemical formulas, or a combination of both.
As with other skincare products, trumpeting organic on the packaging may mean little more than the product contains some organically sourced ingredients. Where plant-based ingredients are of added value is in their antioxidant loadings which help skin stay in optimum condition.
The choice of sunscreen brands is vast and all are subject to testing, so don't be deterred from this vital investment in your health and healthy appearance.
We have focused on a few specialised, innovative and sometimes more expensive examples, but supermarket choices serve general needs well. The most important message is simple: slip, slap, slop and wrap this summer.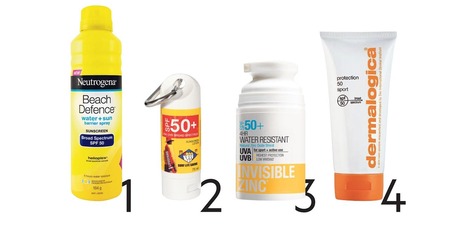 SET FOR ACTION
Sport and beach sunscreens have had a female-friendly makeover, making their heavy duty formulas more appealing.
1. Neutrogena Beach Defence SPF50 Spray $24.99
Unlike Neutrogena's ground-breaking Wet Skin which was engineered to spray and stay even if you had not towelled off properly, this one follows the more usual rule to apply 15 to 20 minutes before sun exposure.
The upside is it smells much better, although both are chemical formulas. For children, Wet Skin Kids is genius, but if you are careful with application you may prefer this less pungent formula as I do.
It is said to have four-hour water and sweat resistance (though I'd top up after a dip), and it comes in a lotion option. We'll be relying on it as our everyday choice for the beach this summer. From department stores, pharmacies and supermarkets.


2. Surf-Life Saving SPF50 Sunscreen Lotion clip bottle $9.99
Less gluggy than many mainstream choices at this protection level. The fragrance-free lotion has four hours' water resistance and comes in sizes up to a 1-litre pump for $44.99. Attach this roll-on to your beach bag and know that $1 from the purchase goes to Surf Life Saving New Zealand's vital work. From Farmers, selected supermarkets and pharmacies.


3. Invisible Zinc 4HR Water Resistant SPF30 $29.95
From the leading mineral filter range in Australia which is fronted by perennial beach bunny Elle Macpherson. Developed for sport and active use, it requires a little rubbing in, but once applied it stays put and unlike chemical filters the micronised zinc reflects rather than absorbs and disperses UV rays. Invisible Zinc also makes good facial tints. For stockists ph 0508 375394.


4. Dermalogica Sport SPF50 $52
A lightweight yet moisturising feel that won't leave you greasy. The water resistance is only 40 minutes, but the best feature is that, as with other Dermalogica products, this uses so-called smart booster technology, which - when it is exposed to UV rays - bursts open encapsulated active vitamins to offer skin more free-radical protection.
This booster combines with chemical filters to enhance protection without the need to resort to products with very high concentrations of potentially irritating ingredients. From selected salons and skin centres or online, see dermalogica.co.nz.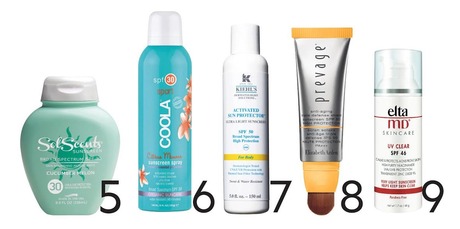 FRAGRANT FUN
Freshen up with sunscreens that don't smell of coconut or like chemical concoctions.
5. Sol Scents in SPF30 Cucumber Melon $18
A new to New Zealand sunscreen from a refreshing seven-strong American scent selection including Angelica, Flower Blast and Raspberry Dream. The aroma essences are wrapped round a traditional chemical filter in a light creamy mix. From selected pharmacies and department stores, ph 0508 734 466.


6. Coola SPF35 Citrus Mimosa Sunscreen Sport Spray $50
This sheer spray smells and looks great and I rattled through a can of it happily in Fiji recently, but its positioning as "organic suncare" is likely to surprise customers who take from this that they are buying a natural product.
While Coola is an innovative brand which uses antioxidant-infused plant-based ingredients - containing "97 per cent organic inactives" - a close reading of the back of the can shows that more than 20 per cent of the contents are actually "active" sunscreening ingredients, in this case standard chemical filters.
If you wish to avoid these then you should look for a mineral sunscreen, but scrutinise the labelling of all brands carefully, as some promoted as mineral products also combine both types of filters to maximise their effectiveness.
California-based Coola does offer a separate and convincing line with minerals, including facial tints fragranced with natural rose essence and cucumber. For salon stockists ph 0800 223 288.


FACIAL FRIENDS
Targeted sunscreens offer skincare benefits alongside protection.
7. Kiehl's Ultra Light SPF50 Sunscreen $62
Oil-free mix of mineral and chemical filters for a sheer effect, with added antioxidants to assist the anti-ageing fight and boost skin clarity. From Smith & Caughey's and Kiehl's Britomart.
Check out Clinique and Dermalogica's ranges for other vitamin-enhanced, oil-free care options, plus sound selections for sensitive skin. An economical sheer choice is Nivea's popular Light Feel Every Day SPF30, with this combination screen now available in a handy tube for $11.99.


8. Prevage SPF50 Triple Defence Shield $155
This is an is an example of a sunscreen extension from a successful skincare franchise. Prevage with its idebenone was a breakthrough antioxidant treatment range which has grown to include this nifty brush-on product said to guard against infra-red-A radiation as well as UVA and UVB. From Elizabeth Arden counters in Farmers and selected pharmacies.
Lancome has also expanded its antioxidant-based anti-ageing push into specialised sunscreens with its Genefique franchise.


9. Elta MD UV Clear SPF46 $55
This mineral filter sunscreen is for skins prone to acne, rosacea and hyperpigmentation and includes 5 per cent niacinamide (vitamin B3) to help reduce blemishes and discolouration.
The American dermatologist-developed range includes another sunscreen for skins that have been recently resurfaced plus options for less traumatised skin types. I've used Elta MD on and off for several years and love that I don't need moisturiser underneath and foundation sits happily on top. From Prescription Skincare, ph 529 5784.
See cancernz.org.nz/reducing-your-cancer-risk/sunsmart/


- VIVA