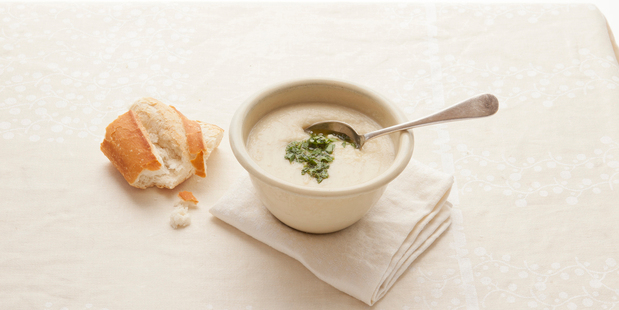 It's as if nature is playing a cruel trick on me - the vegetable I am the least fond of eating is the one I seem most adept at growing. Despite barely any attention, small white clouds appear in my garden that within a few days grow into huge, tight bundles of whiteness.
Last season I discovered there's only so much cheese in the world with which to sauce a cauliflower. This year I've found a much more refined and magical solution - cauliflower puree.
It's thanks to a recipe I've adapted from my prized French Cafe Cookbook and it goes perfectly with sauteed scallops, a pan-fried piece of fish, heck, even a decent piece of steak. Try it, you'll be on cloud nine.


Pureed Cauliflower
1. In a decent saucepan, saute half a chopped onion with 2 tablespoons of butter until it's soft but not coloured.
2. Add a whole cauliflower, chopped into very small pieces. Cook for five minutes or so, stirring around so that nothing gets any colour on it.
3. Add 1½ cups of milk and almost a cup of cream and bring to a simmer. Continue cooking until the cauliflower is soft and cooked through.
4. Drain, saving the liquid, then puree with your favourite kitchen gadget until it is very, very smooth.
5. Add some of the reserved liquid as you go to get a good consistency. Taste and add salt to season.
Makes about 2 cups.