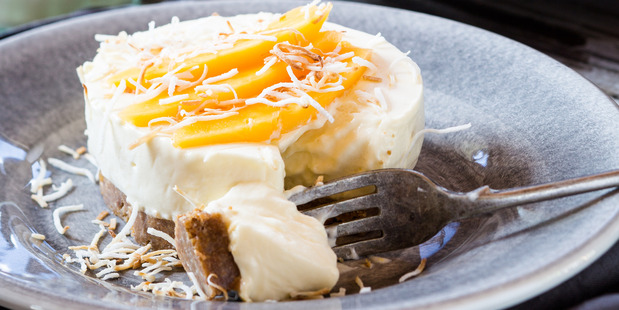 Lemon and Coconut Crunch Cakes
Serves 6-8
• 250g packet gingernuts
• ½ tsp cardamom
• 100g butter, melted
• 1½ tsp gelatine powder
• Zest and juice of 1 lemon
• 500ml cream, lightly whipped
• ½ tin condensed milk
• 100ml coconut milk
• ½ pawpaw, sliced
• ¼ cup roasted coconut
1. Place gingernuts into a food processor and blitz until mix resembles fine breadcrumbs. Add cardamom and melted butter and combine well.
2. Place 6cm x 8cm flan rings on a baking sheet. Place crumbs evenly in the flan rings and press down with the back of a spoon. Refrigerate for 15 minutes to harden.
3. Sprinkle gelatine over the lemon juice and leave for 3 or 4 minutes to expand, then heat in the microwave for 30-40 seconds until dissolved and clear.
4. In a large bowl, place cream, zest, condensed milk and coconut milk. Stir until well mixed then add the gelatine.
5. Pour the mixture evenly over the biscuit bases. Cover and refrigerate for at least 4 hours or overnight.
6. When ready to serve, run a sharp knife around the edge of the rings and lift off. Garnish with sliced pawpaw and toasted coconut.
- VIVA