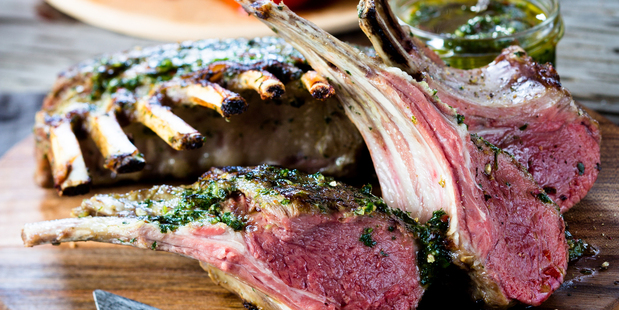 Rack of Lamb with Chimichurri Sauce
Serves 4
• 1 cup parsley leaves
• ½ cup coriander leaves
• 3 cloves garlic
• 1 red chilli, roughly chopped
• ½ tsp cumin
• ½ tsp coriander
• ¼ cup white vinegar
• ½ cup olive oil
• ¼ tsp salt, few grinds of pepper
• 2 racks lamb, trimmed of all fat
• 1 Tbsp oil to coat lamb
1. Place parsley, coriander, garlic, chilli, cumin and coriander in a food processor. Whizz until finely chopped. Then add vinegar, oil and salt and pepper. Blitz again until very well blended.
2. Rub a third of the sauce over the lamb and leave to marinate for 30 minutes.
3. Preheat an oven to 180C.
4. In a frying pan, heat 1 tablespoon oil and sear the outsides of the lamb to seal and brown. Place straight into the hot oven for 15-20 minutes, or until done to your liking. Remove and let meat rest for 10 minutes before carving.
5. Serve with vegetables of your choice.
- VIVA